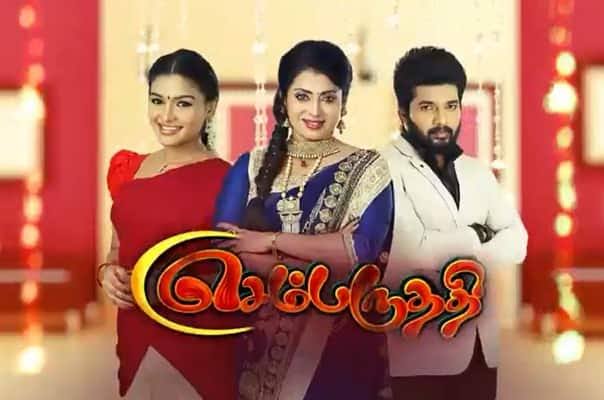 Sembaruthi Upcoming Story, Spoilers, Latest Gossip, Future Story, Latest News and Upcoming Twist, on Justhowbiz.net
The episode starts with Arun and Aishwarya visiting Parvathi. The latter is surprised to see them. When Arun asks about Adhi, Parvathi tells he has gone to Hyderabad and he will return in two days. Aishwarya takes out a saree and jewels and they brought for Parvathi, who looks on confused. Arun says mom asked to give the saree and the jewels for her.
 Aishwarya says Akhila told to give these gifts to the person who did pooja and give the kalasam to them with good intentions. Arun asks Parvathi to accept the gifts since she's the one who performed the boomi pooja. Parvathi is skeptical but Arun and Aishwarya convince Parvathi to accept the gifts. They take leave. Parvathi places the gifts in front of Lord and prays for Akhila and Adhi's reunion.
Parvathi goes to temple taking 10k given by Adhi to fulfill the vow she has made to God. On her way a woman stops her pleading to help her by giving money as her mom is in hospital. Parvathi feels pity for that girl. She asks what happened to her mom.
The girl saying crying her mom jas a brain tumor and she needs money for her mom's operation. Parvathi asks how much she wants to which the girl says 10k. The girl pleads with Parvathi to help her. Parvathi gives the 10k she had to put in temple's charity box. The girl expresses her gratitude to Parvathi.
At Akhila's office Gajendiren humbly asks Akhila that he urgently needs 1 lack. Akhila asks to get the money from the cashier. Seeing Gajendiren standing there sad, she asks what happened. Gajendiren says his son who recently got married wants to live separately, he tried to chsnge his mind, but he doesn't listen to him.
 Just then Gajendiren receives his son call who is waiting outside office for money. Akhila asks Gajendiren to call his son to her cabin. Gajendiren son and daughter-in-law meets Akhila. The latter asks the son why he wants to live separately. The son says  his parents don't understand his wife and they always fought with her. Akhila says if his wife wants to go separately he should have make her understand that he will not leave his elderly parents alone.
Akhila advises Gajendiren daughter-in-law to consider at her husband's parents as her parents. The girl says it's easy to advise and she can't see the problem that's happening inside their family. She questions why she didn't stop her own son and daughter-in-law when they left home.
Gajendiren asks her to apologize to Akhila. The latter apologizes for speaking in their family matter. Sundaram hears everything. Akhila tells to Sundaram that she's unable to answer to that girl's question and blames Parvathi.
Vanaja meets Nandhini. She apprise her about what at home. She says she will put an end for Akhila's arrogance. Nandhini says they should attack Akhila in business while Vanaja says they should attack her family. Just the Akhila's nurse comes there. She says they can defeat Akhila in both business and family. She says a samiyar who practices black magic. Vanaja likes the idea. They decide to meet that samiyar.
The episode ends.