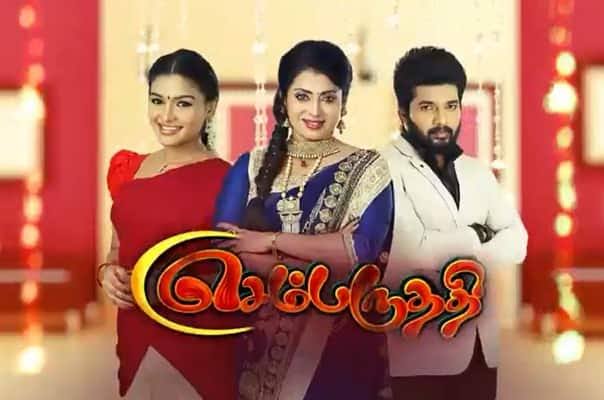 Sembaruthi Upcoming Story, Spoilers, Latest Gossip , Future Story, Latest News and Upcoming Twist, on Justhowbiz.net
The episode starts with Aishwarya asking Akhila not to attend the felicitation ceremony. She says she's having a bad omen for her. She had a nightmare like Police arresting her. Akhila tries to reassures her. Aishwarya request Akhila to cancel her plan for her sake. Vanaja interrupts them asking for her sake or Parvathi's sake.
Akhila she further tells it's all Parvathi's plan. Akhila questions Vanaja why she's dragging Parvathi's name unnecessarily. Vanaja says she has a proof. Arun asks what proof she is having. Vanaja snatches Aishwarya phone. She says here is the proof. She further tells Aishwarya has just talked to Parvathi who gave the idea to stop her from going to the function. Just then Sundaram comes there.
Seeing everyone in the hall discussing, he decides to wait here. Vanaja shows Parvathi's name in call history. She then calls Parvathi putting the phone on speaker. Parvathi, unaware of the situation, asks if she stopped Akhila. Vanaja signs Aishwarya to talk to Parvathi. Aishwarya says the phone is on speaker and everyone listening her.
Akhila says she will definitely attend the function, no one should interfere in her decision, as no one has that right. She further says what's in one's heart, will come in the dream. Parvathi cuts the call and cries. Akhila goes upstairs while everyone looks helplessly. Purushotaman notices Sundaram and feels bad.
Parvathi is crying. She says she can never think bad about her. She keeps crying. That moment Janu comes there. She worries seeing Parvathi weeping and questions what happened. Parvathi tells she did a big mistake by marrying Adhi without Akhila's knowledge and she doesn't deserve to be alive. Janu asks to tell what happened. Parvathi says she lost Akhila's trust.
 The latter believes that she can think bad about her. She tells her everything. She feels like putting an end to her life, but she changed her mind thinking of Adhi, who loves her a lot. Janu tries to reassure her. Parvathi says she lost the faith that everything will become normal. She cries hardly.
Sundaram comes back to Akhila's home. He asks Purushotaman to meet Akhila. The latter sees Sundaram and calls upstairs. Sundaram says he was shattered hearing her telling that what one has in their heart, will home in their dream. He further says Parvathi must have felt heartbroken hearing  the same. He says she shouldn't have said like that.
Akhila asks if they ever tried to put themselves in her shoes. That day when the daughter-in-law of Gajendiren questioned her, she was unable to answer her. She asks Sundaram if he ever saw her like this. She further tells Parvathi was responsible for her not being able to say anything.
Sundaram admits Parvathi did an unforgivable mistake, but she always considers her as her God. He requests Akhila not to doubt Parvathi's loyalty for her. He says she has all rights not to forgive her or accept her. He requests not to believe that Parvathi can think bad about her. He asks to forgive him if he has said something wrong and leaves.
The episode ends.