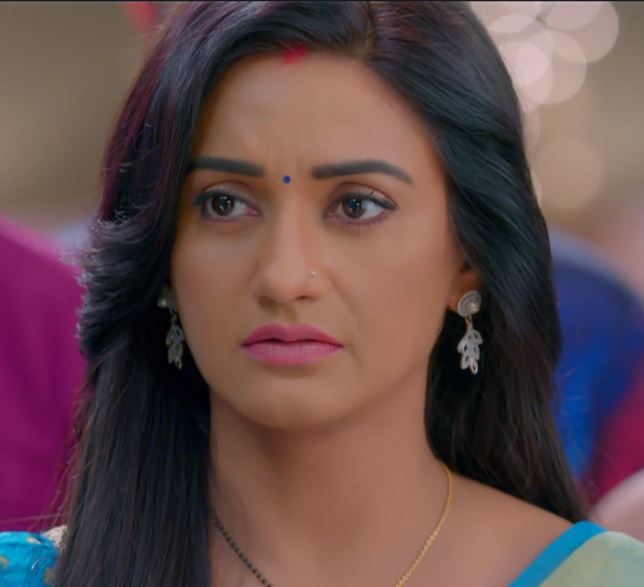 Shaadi Mubarak Spoilers, Upcoming Story, Latest Gossip , Future Story, Latest News and Upcoming Twist on justshowbiz.net
Star Plus popular daily soap Shaadi Mubarak is gearing up for some major drama. In the earlier episode Phurti accuses KT and Preeti for betraying her. She states that she won't let them go to London without her. Kushala ask about Phurti! To which Preeti replies that she is her cousin whom they are taking to London. Kushala says that Phurti isn't fit to care for Preeti and states that she have already cancelled her tickets and now she will go instead of Phurti. KT and Preeti gets shocked while KT stops Phurti from revealing about surrogacy.
Preeti somehow convinces the family members for letting Phurti stay with them. Preeti takes Phurti inside while she gets mesmerized seeing their room. KT gets frustrated with her behaviour while Preeti calms him and ask to find an excuse to cancel their London trip as they can't take Kushala along with them. On the other side Kushala informs Shivraj about Phurti being the same girl with whom her file got exchanged. She gets inside KT's room and ask them to go to have food. She fakes getting a call and as they left, She steals the file from Phurti's bag.
At that time Preeti comes and insists Kushala to join her. Kushala hides the file behind the cupboard where Preeti have also hidden her file and goes along with her. Priyanka gets jealous seeing Neel talking with Phurti while he notices it and intentionally mingles with Phurti. Later on Kushala gets inside and burns Preeti's file thinking it to be hers. She and Shivraj gets relieved thinking that their secret will always be safe. Everyone stands in the hall to bid bye to Kushala along with KT and Preeti.
At that time some labourers gets inside and accuses Preeti for mistreating one of the labour. KT defends Preeti while Preeti confess her mistake and apologizes for it. The leader of labourers ask Preeti to return her award too as they got the letter from union. She returns the award with teary eyes and ask sorry from Kushala for cancelling their London trip. She goes inside while everyone looks at her with sympathy.
Now in the upcoming episode Kushala will gift an evil eye locket to Preeti and ask her to wear it in order to protect herself and the child. Preeti gives the locket to Phurti and makes her wear it while KT looks at her. Later on Kushala sees the locket in Phurti's neck and gets shocked. She ask Preeti that why she have given it to her sister? Preeti gets speechless and looks at Kushala.
What is in the file which Kushala and Shivraj is trying to hide? Will KT gets to know about Preeti's disease? What Preeti and KT will do to hide the surrogacy matter? What will be family's reaction after knowing about Phurti being Preeti and KT's surrogate?
It would be interesting to see what happens next on the show.
Stay tuned with us for more news, spoilers and written updates of Shaadi Mubarak.