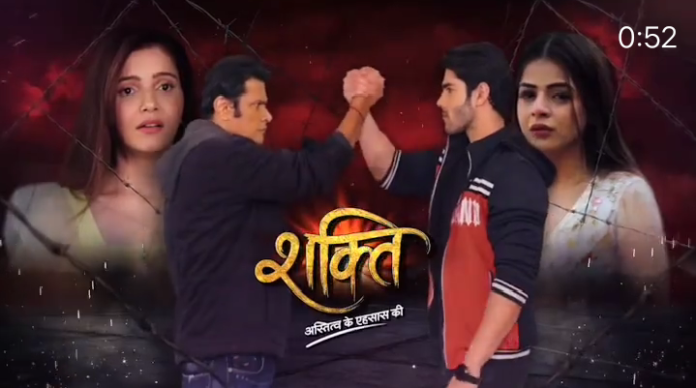 Shakti Astitva Ke Ehsaas Ki Upcoming Story, Spoilers, Latest Gossip, Future Story, Latest News and Upcoming Twist, on Justhowbiz.net
Episode starts with Harman and Saumya noticing the goons. Harman says the location is right. Virat might have gone inside. Saumya worries for Heer and Virat. She says they are in danger maybe, we can't go inside in this get up. Saumya says she has a solution.
Angel tells Mahi to release her. Mahi doesn't ignores her. Daljeet calls on the landline number. He asks for Angel and Harak picks it up. Angel shouts and Preeto shuts her mouth with a cloth. Harak lies that Angel is not home. Daljeet then tells him he wants to talk to Mahi else Heer will get killed. Harak calls Mahi and says what Daljeet told. Preeto signals Mahi and says for some time she should forget their differences and should support them to save Heer. Harak tells Mahi to not do anything as they can't afford to lose Heer. Mahi receives the call and Daljeet asks her is everything fine? Mahi lies. Angel says Mahi has gone mad, she says all are fooling you, can't you understand. Preeto ties a cloth on her mouth so that she can't speak.
Saumya and Harman come in guise of Rajasthani dancers. Heer and Virat try to untie each other. Harman says they should start their drama. Saumya covers her face with ghunghat and they start acting. Saumya acts like she is angry with her husband. Harman tries to convince her. Harman asks which place is this. Goons tell them to stop and take them inside.
Virat and Heer hear Harman's voice. Goons inform Daljeet about them. Daljeet says this is not a drama company. Saumya starts her acting and says they are only entertainers and earn money. She praises Daljeet and says they can entertain him as well. Other side Angel tries to free herself while everyone gets lost in deep thoughts.
Saumya starts dancing and Harman accompanies her. Heer tells Virat that the goons are busy in watching the dance, they can escape by taking advantage of the situation. Saumya and Harman make the goons drink alcohol and she spikes their drink too. Saumya smiles. Virat and Heer successfully untie each other.
Angel acts in front of Preeto and latter goes near her. Angel gets up and pushes Preeto. She runs away but Mahi blocks her way. Angel tries to instigate her against her family. Angel says if Mahi helps her today she will also help her in getting Harman back. She won't get her family's support, she knows it. Mahi allows her to go. Angel escapes. Preeto and others get shocked to see that. Preeto slaps Mahi and tries to choke her for helping Angel. Preeto says Mahi is a selfish person who doesn't even care for her daughter. She made a joke of a mother's sacrifice. Harak stops Preeto and tries to calm her down. Preeto lashes out at Mahi.
Saumya removes the cover from her face and Angel fires. They get shocked to see her in that place.
Episode ends