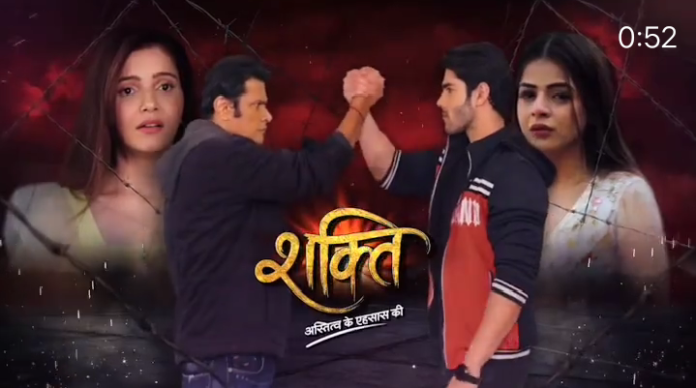 Shakti Astitva Ke Ehsaas Ki Upcoming Story, Spoilers, Latest Gossip, Future Story, Latest News and Upcoming Twist, on Justhowbiz.net
Episode starts with Saumya and Harman getting shocked to see Angel there. Angel shoots. She tells Daljeet to get up. She tells Saumya and Harman, this is not a film scene that they will act like dancers and make others unconscious easily. Police won't come. They won't succeed in their plan. Angel aims gun at Saumya and Harman and threatens Saumya that she will kill her. Harman comes in between to save Saumya. He says at first you have to face me before killing Saumya. Angel says stop your dialogues. You belong to Mahi, Saumya is noone for you.
Harman doesnt move and Angel says then he will get killed as well. She is about to shoot but Virat throws stone at her hand and her gun falls down. Saumya picks up the gun and says my real story will start now which was incomplete. Harman then aims gun at Angel and tells Virat to tie Daljeet and other goons so that they can take them to police station. Virat ties Daljeet with rope and feels sad for Gurwindar. He says Daljeet atleast could think about his wife. Virat ties Angel too. Heer enters slowly and gets emotional looking at her Gulabo. She recalls her memories with Saumya. She calls Gulabo.
Saumya looks at her and gets emotional. Heer sees Harman. Harman and Heer go towards each other. Harman touches her cheek and asks you are my Heer? Your face changed totally. Harman says he was staying away from his family so right now he is unable to believe that he is meeting his daughter. Heer says she used to imagine him in childhood. She used to see him and Saumya in photos only. So when he is back finally he won't leave her alone. Heer hugs him happily and Harman tells her not to cry. He says people say you resemble me but you are reflection of Saumya only. Heer smiles. Harman and Virat go out to make arrangements for taking the goons to police station. Saumya goes near Heer but the latter avoids her.
Saumya says in childhood also Heer used to be naughty like this. Heer gets upset over the fact that Saumya didn't even try to contact her after leaving the house. She didn't send any letters neither she missed Heer. Saumya says she was bound to stay apart from her family. Now Heer should not remember the past incidents. She will always be with Heer. Heer ties dupatta with her and Saumya's hand. Heer says I won't let you go. Saumya recalls in childhood Heer used to do the same. She hugs Heer and says you are really like me.
Virat calls Preeto and informs Heer is safe and they are coming back to their old house. Preeto sheds tears of joy and everyone gets happy to hear the good news. They wait for Heer's arrival. Preeto thanks matarani and goes to welcome Heer with aarti thal. Preeto gets overjoyed and puts teeka on her forehead. Heer enters the house with Harman, Virat and Saumya. Preeto hugs Heer and gets emotional.
Episode ends