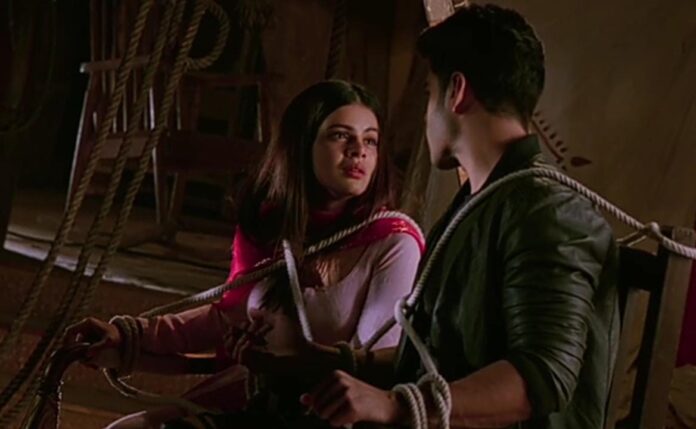 Shakti Astitva ke Ehsaas ki Spoilers, Upcoming Story, Latest Gossip , Future Story, Latest News and Upcoming Twist on Justshowbiz.net

Colors TV show Shakti Astitva Ke Ehsaas Ki never fails to give important message to the audience through its unique storyline. Currently, Mahi faked goodness and united Saumya and Harman to gain sympathy. Saumya understood her motive and exposed her with Virat's help. Mahi also joined hand with Angel.

Earlier it's seen how Saumya beat Angel with a whip. Angel got frightened and she agreed to reveal Heer's whereabouts. Later she went to drink water and again fooled Saumya and her family. She escaped with Mahi and Daljeet. There Virat scolded his parents for releasing a dangerous criminal like Angel. Who snatched his love Heer.
He said he can't trust them now. Later Virat overheard Daljeet's words that he is going to see Heer so he followed Daljeet. There Mahi and Angel again arrived with Police to get Preeto's family arrested. Police searched Harman's house but couldn't find Saumya. Virat followed Daljeet and reached an unknown place, he felt Heer's presence.
He tried to call Harman to inform him about Heer but the latter didn't pick up. Virat dropped a message and Angel read it. She tried to run away but Saumya tied her with rope. Harman got happy to know that Virat found Heer finally. Saumya told Preeto to keep eyes on both Mahi and Angel. Virat tried his best to reach Heer.

In upcoming episodes viewers will witness that Daljeet will make Virat unconscious and his men will confine Virat in the same place where Heer is caged. Heer will tell Virat to get up and will break down. Later Heer and Virat will share a romantic moment in Heer's dream. They will dance together and hug each other.
Later Virat will get his senses back and will reveal that Heer's Gulabo and Harman both are back. Heer will get overjoyed to know that. She will also apologise to Virat for not respecting his feelings. She will promise that she won't leave him. There Saumya and Harman will keep searching for Heer and Virat.
How will Virat and Heer escape?
What will be Heer's reaction after meeting Saumya and Harman?

All questions will in upcoming episodes. To know what will happen next keep watching the show Shakti Astitva Ke Ehsaas Ki.
For more such news and updates stay tuned to this space.