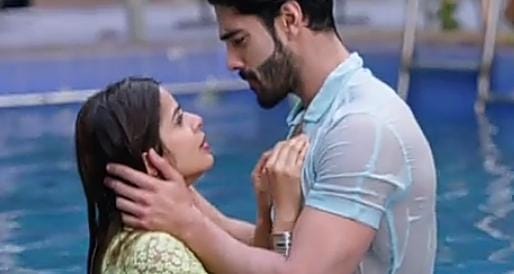 Shakti Astitva Ke Ehsaas Ki Upcoming Story, Spoilers, Latest Gossip , Future Story, Latest News and Upcoming Twist on justshowbiz.net
Colors TV show Shakti Astitva Ke Ehsaas Ki is all set to surprise the viewers with its upcoming twist. Previously we have seen Virat aggressively tries to attack Heer and that too because of Isha's foul play. Isha injects heavy drugs in him. Virat loses his calm and desperately tries to kill her and in the meantime Heer enters and Virat runs behind her. Thankfully Virat gets some flashback memories of his college days as Heer's dupatta falls on him suddenly.
Heer gives the suggestion to Virat's family that she should try to remind Virat of his past memories. But Isha in order to fulfill her selfish motive tells Heer that she will take care of Virat. He is her patient. Heer to replies her that she too was careless as she gave lame excuses about Virat coming out of his room unexpectedly. Here Biji too reveals that she got to know Heer is kinnar. Angel also enters Kaul Villa and forcefully tries to take Heer with her. Biji slaps Akshay for hiding the truth and throws and Heer and Akshay out of the house. Biji says she hates Heer.
In upcoming episodes viewers will see that Heer slips near swimming pool and was about to fall but Virat tries to hold her hand. But he fails to do it and Heer falls into water. Virat too jumps and saves her. They then will stare at each other and Virat will hug Heer in the pool. Heer will feel relieved and happiness will be see on Virat's face.
Will finally Virat be able to remember Heer?
Is it a dream sequence of Heer? Or it actually happened?
All questions will be answered in upcoming episode. To know what will happen next keep watching the show.
For more such news and updates stay tuned to this space.