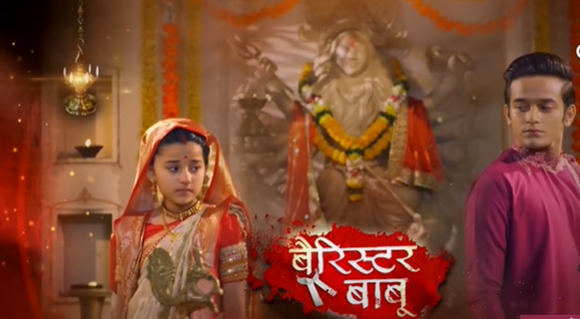 Indian Television after quiet a long is witnessing a show which is free of over drama, dragging of the tracks and baseless twists.
Barrister Babu has audience heart for serving top quality content that has some learning at the end of the day. Starring Pravisht Mishra and Aurra Bhatnagar in the lead, show is watch worthy because of its fresh storyline and powerful acting of the leads. Inspite of no hype, Barrister Babu made irreplaceable place in the heart of the audience. Show is getting good TRP impression each week. Thus, here we are quoting few obvious reasons which are making Barrister to shine out.
Show Barrister Babu can never have a competitor because of these obvious reasons:
Openly discuss social issues:
Barrister is the only show which is openly raising the voice against top taboos that includes; sati pratha, sex education, education for girls, thoughts on second marriage and equality. They are minutely presenting the detail of these false beliefs and giving a strong message to the society through Anirudh and Bondita's journey in the show.
The current track of the show will showcase the life of a market woman who is objected as a play material in the society. Anirudh will break this norm too.
Lead of the show has 'Aura':
Pravisht Mishra and Aurra Bhatangar with their aura (appearance) add extra charm to Barrister Babu. As Anriudh and Bondita they share age difference yet attract the audience.
The amount of flawlessness Pravisht bring in his acting, we bet even big actors will fail to do that. He well carries each emotion as Anirudh. This is the reason hunk is winning audience heart for his top notch performance.
Child actress Aura Bhatnagar well compliments Pravisht. She too doesn't fail to bring life to the character of Bondita in each single frame.
Villains are as classy like never before:
Without any doubt; villains are such that you just can't hate them.
So, these are the top best reasons why no other show can come compete with Barrister Babu.
Colors popular show Barrister Babu's plot focuses on the journey of Anirudh (Pravist Mishra) and Bondita (Aura Bhatnagar). Under unfavorable situation Anirudh married little Bondita to save her from getting burnt alive according to 'sati pratha'. Anirudh vows to take care of Bondita. But one misunderstanding separated the duo. Now in the upcoming episode Anirudh will struggle to find Bondita.
Stay tuned with us for more news, spoilers and latest updates.