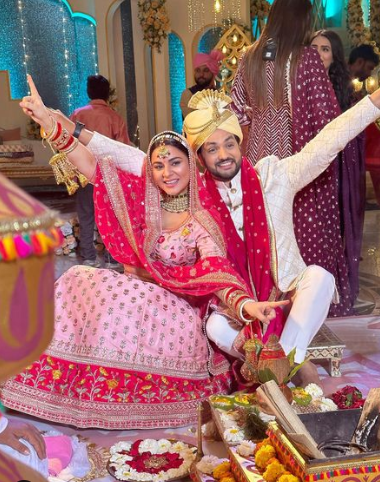 Famous Shraddha Arya always gives an exciting content to its followers. She keeps her fans entertained off-screen too with her off-screen reels and picture.
Most recently, Shraddha shares a still from an upcoming moment in her show Kundali Bhagya. Her character Preeta is going to get married for the 10th time in the show. Arya shared exclusive wedding pictures alongside co-star Shakti Arora. Shakti plays the character of Arjun in the show. Actress caption read: When it's your 10th wedding in the same show and now you don't care Why, When or With Whom it is… 🤣
#KyunkiYeMeraKundaliBhagyaHai #Preejun
No sooner Shradha dropped the pictures, fans showered love for Preejun. Preeta and Arjun color coordinating in pink and white. Preeta worn floral lehenga and pink dupatta. White accessories completing her look.
Taking about Arjun, to compliment lady love he has worn ivory sherwani and pink duppata. The wedding sequences in the daily soap bring lots of entertainment. PREEJUN wedding will bring high voltage drama.
Makers of the show have released a shocking wedding promo. Prithvi will attack Arjun's mother during the wedding of Arjun and Preeta. The show is expected to take a short leap.
According to the latest rumour, Shakti Arora might quit the show. In an interview with Justshowbiz, Shakti didn't confirm his exit. If sources are to be believed, Dheeraj Dhopar might be back in the show.
PreeRan fans are excited for the upcoming development. It will be interesting to watch if Karan returns to the show or not.
On story front, Arjun and Preeta confront each other over marriage. Preeta tells to Arjun that she agreed for the wedding for Rakhi's sake. In the meantime, Arjun is trying to hide his true identity from Preeta and Luthras.
Drama will galore in the show when Prithvi will vow to break Preeta and Arjun's mairrage.
Stay tuned with us for TV serial news and updates