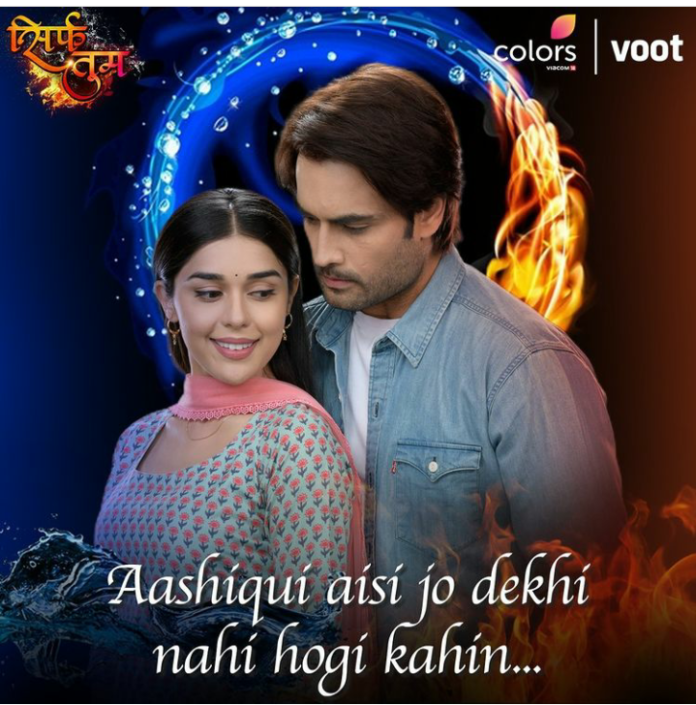 Sirf Tum Upcoming Story, Spoilers, Latest Gossip , Future Story, Latest News and Upcoming Twist, on Justhowbiz.net
The episode starts with Rakesh going Out With Ranbir. And Sudha wonders where did Rakesh go? Rakesh tells Ranbir he will send Suhani to college after Some days. Sudha finds them And learns from Ranbir that it is Suhani's first day at college why she didn't go there yet. Sudha looks at Rakesh Ranbir tells her that Suhani topped the exam And she got admission as well. He informed Rakesh too. Suhani hears this from balcony and gets delighted. Sudha lies that they knew it and then she brings sweet for Ranbir. Ranbir eats it and leaves. Sudha asks Rakesh why he didn't tell them about the result. Rakesh says being Suhani's father he knows what is right for her. He adds he has some conditions if Suhani wants to study in that college, that are she will only focus on studies and will stay away from rich girls like Riya. He doesn't want to hear any complaint against Suhani else he will get her married immediately.
Ranbir makes preparations for Suhani's welcome. She asks about a special thing. Suhani reaches college with sudha and latter wishes her best of luck and tells her to give sweet box to Ranbir. Suhani hesitates saying he is her senior, and she will look weird while giving the box. Sudha says Ranbir helped her a lot so she should thank him. Suhani enters the college and get surprised seeing all the decorations. Ranbir gives her bouquet and says welcome to college. Ansh observes them. He says Suhani will bear all his torture as Ranbir likes her and he hates Ranbir. Suhani and Ranbir walk together. Ranbir stares at her happily. She receives a grand welcome. Suhani tries to tell him something and Ranbir gets Mamta's call. Mamta tells him to hurry up to attend the party. She orders him and Ranbir leaves. He bumps into Ansh and the latter taunts Ranbir. Ansh plans to trouble Suhani. Ranbir's friends stop one fresher to walk on the red carpet saying this is not for her.
Ranbir gives responsibilities to his friends to take care of Suhani in his absence. Ansh tells Rishi that he will trouble Suhani to such extent that this day will haunt her like a nightmare. Ansh talks to Ranbir's friends and gives them a fake information and takes them to somewhere. Suhani asks about her class to one girl and she shows some boys along with Rishi are ragging some students. Rishi stops Suhani and tells her to dance. Suhani feels uncomfortable and says ragging is illegal and he will get punished. Rishi mocks her and continues ragging. Suhani looks for Riya and tries to find a solution to save herself.
Episode ends