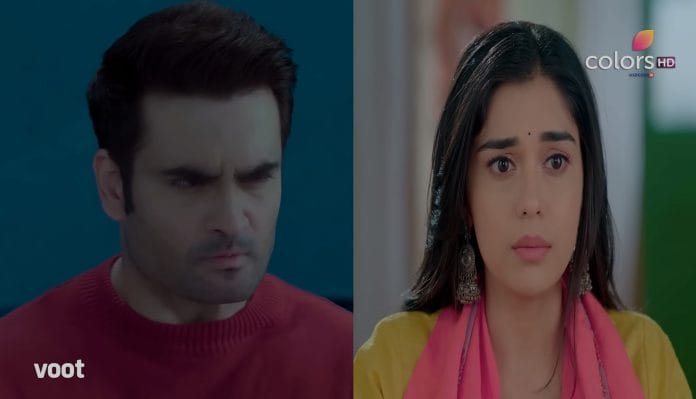 Sirf Tum  Spoilers, Upcoming Story, Latest Gossip , Future Story, Latest News and Upcoming Twist on justshowbiz.net
Colors TV new show Sirf Tum starrer Vivian Dsena and Eisha Singh will witness an interesting drama. Suhani came back to Dehradun and much to her shock, she meets Ranveer again in the same hospital where she got her posting. It will be exciting to watch how Ranveer and Suhani clear their misunderstanding.
In previous episode it was seen that Suhani and Aditya got the joining letters and night shift was given to Suhani. Suhani was asked to report Dr R.O, who is noone but Ranveer. Suhani learned that Dr R.O is aggressive and short tempered.
She tried to break her fast before meeting him but he attacked the ward boy in anger, as he couldn't bring Suhani to him. Suhani and Ranveer came face to face and she got hurt by Ranveer while trying to save the ward boy. He made her drink water and sprinkled water on her face.
She told him to stay away from her and taunted him, saying she has proved her worth and she doesn't need him in her life. Ranveer grew vengeful and there Suhani broke down. Rakesh told her to not ruin her career by quitting the job because of Ranveer.
in future episodes it will be seen that Suhani will decide to fight back instead of hiding from Ranveer. Aditya will tell Suhani that he will stay with her in the hospital to protect her from Dr R.O. Suhani will tell him not to doubt her potential. She doesn't need a man's help. Ranveer will tell her to greet him properly.
He will check a patient who has knee problem. Ranveer will order Suhani to check upon the patient whether he is standing or not. Suhani will allow him to sit and as a result she will get scolded by Ranveer. Ranveer will tell her to not think emotionally.
He will also punish her to stand all the time while on duty. Suhani will accept that and she wont be ready to change her work ethics. Later she will treat a wounded boy in Ranveer's absence.
Will Suhani quit her job?
How will Ranveer take his revenge?
all questions will be answered in upcoming episodes.
to know what will happen next in your favorite show sirf tum, stay tuned to this space.