Rohit and Sonakshi's Sangeet performance in Kahaan Hum Kahaan Tum is a treat to watch.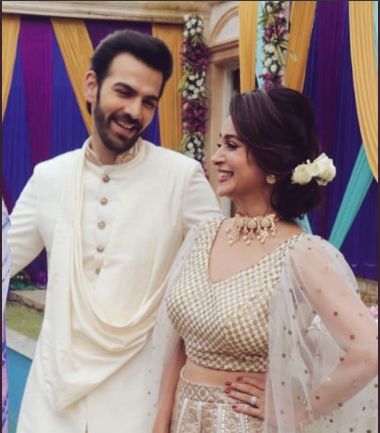 Ronakshi's dance on their sangeet ceremony was mesmerizing. The duo performed on Maahi Ve and after completing the dance Rohit and Sonakshi hugs each other in the last. Ronakshi's tight hug will make you to hoot and whistle loudly similarly like Sippy's and Rastogi's. But Rohit and Sonakshi's closeness is not going well with Rohit's ex-girlfriend Raima.
After YK's mother brain washed Raima, Raima is giving a second thought to her decision. She has first united Rohit and Sonakshi and now she feels Sonakshi is feeling insecure with her. Raima soon will have a change of heart towards Sonakshi and she will bring major twist ahead in the show on the wedding day of Ronakshi. Some reports read, Raima will swap Sonakshi at the mandap and will sit with Rohit to marry him. She will kidnap Sonakshi and now it will be interesting to watch how Sonakshi will turn escape from Raima's trap.
Coming back to current story.. Naren has accepted Sonakshi finally. Media gets upset with Naren Sippy's behavior after he pushed the media person and misbehaved with him when he questions him on Sonakshi's safety at his house. Sonakshi goes to media and apologizes to the media on be-half of Naren and he gets impressed. Sonakshi tells to Naren that media is like her family.
Naren welcomes Sonakshi to the family and ask her to call dad not uncle. Sonakshi gets happy. Keep watching Kahaan Hum Kahaan Tum mon-fri on Star Plus
How much you are enjoying watching the show, shoot your views in the comment section below.
Keep visiting this space to read the full written update of Kahaan Hum Kahaan Tum episodes.
Stay tuned with us for more news, spoilers and latest updates.