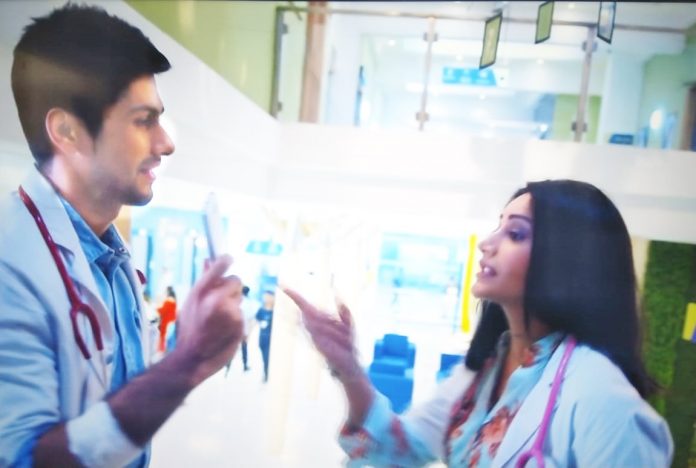 Sanjivani 2 second week starts with big bang (as Dr. Shashank puts it). Today's episode is concentrated more on Dr. Shashank's surgery and how Dr. Juhi overcome her fears to perform that. 
Today episode will cover the continued argument between Dr. Ishani and Dr. Sid. In last episode, Dr. Ishani made his video and warns him to expose him for corruption. Today, Dr. Sid first try to persuade her to not do that. When he fails he got hold of her mobile somehow to delete that video. 
Further, Dr. Ishani searches for Dr. Sid to get her phone back when she meets Dr. Juhi who was distressed not not performing surgeries. Dr. Ishani reminds her of her past surgeries which we were difficult but Dr. Juhi did it. She also says that she should remember why she has started. Dr. Juhi is surprised to discover how much Dr. Ishani knows about her. 
Dr. Sid talks to a patient while checking videos from Dr. Ishani's mobile. However, on patient's advice he returns it. In conversation, he unknowingly bought Dr. Ishani's mom reference for which she became sad. 
Consequently, Dr. Anjali talk to Dr. Shri to perform her dad's surgery but Dr. Shashank says only Dr. Juhi will do. Dr. Juhi enters the room and says that she is going to do the operation. 
Dr. Sid, Dr. Ishani and one junior doctor overhears the plan of Dr. Vardhan and prospective candidate for CEO as how they plan to change general ward to premium ward. They also discuss about scrapping the jobs of old nurses. Dr. Sid and junior doctor feels angry but ignores to talk because of their work. Nonetheless, Dr. Ishani talks to Dr. Vardhan that it is against rules. She reminds him that Dr. Shashank is alive so he cannot appoint anyone in his place. Dr. Vardhan replies that she should do her work. Dr. Sid admires her courage. 
The unusual decision: 
In the OT, Dr. Juhi freezes again but later takes usual way to do the surgery. She decides to do the brain surgery through nose. 
Let's Get Bizzin!!