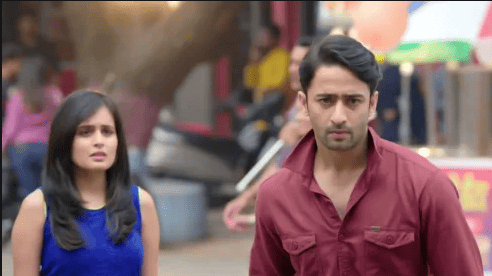 In the upcoming episode of star plus popular show Yeh Rishtey Hain Pyaar Ke,  Meenakshi will look at the sarees that Abir's NGO ladies brought and ask Nidhi to select. Kunal tell her Parul is with Abir. Nidhi ask Kunal to choose one for Kuhu and he will choose a beautiful saree for her. Kunal will get lawyer's message to meet him outside home where he hand over the court notice to Kunal in person. He tell Kunal it is okay if they don't want divorce as they just don't have to sign the papers. Kunal will be glad.
Rajshri and Vishamber will thank Jasmeet for agreeing to come to Rajvansh house to fix Mishti alliance inspite of what happened. As they all leave, Varsha sign a courier and give it to Shourya. Its court notice for Kuhu but shourya will not see the cover and give to Mishti to keep in bag for now as they can read later.
Kunal  will go to their room and take the dress that Kuhu has laid on the bed and will keep his saree. Kuhu will come out and ask where is her dress for which Kunal will ask her to wear the street he brought for her. Annoyed with him, she will send him out to change. Maheshwari family arrive. Mishti will meet Abir in the corridor and they share a light moment. Abir will then ask Mishti about her decision to live separately. Mishti will ask him for sometime to decide and he agree. Kunal will be disappointed to see Kuhu not wearing his gifted saree and ask her. She will ask him how can he forget that feb 15th is the end of their marriage. Kunal will tell her he forgot and Kuhu will angrily reply that she forgot to wear his street same way.
Meenakshi will apologize to Jasmeet and inform family about the wedding date. Vishamber will agree to keep the wedding earlier than later. Meenakshi will go to handover shagun to Mishti when Abir stop her saying he do want her to be a part of this wedding. Everyone will be shocked. Meenakshi will tearfully agree with a smile and ask Parul to give it. She leave and later Abir and Mishti perform the Pooja.
To know more keep watching the show and stay tuned for updates.