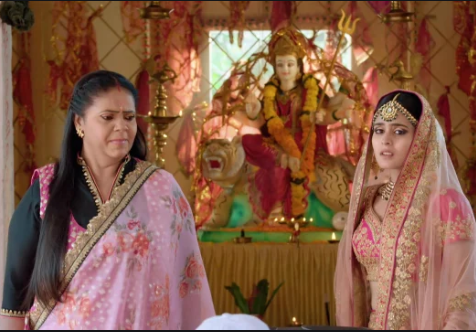 In the upcoming episode of star plus popular show Yeh Rishtey Hain Pyaar Ke,Kuhu will bring in the band and blindfold Abir. She will challenge him to find Mishti among the ladies who has gunghat covering their face.Both the families eagerly wait as Abir will go near the women to identify Mishti. He will find her correctly winning the challenge.
Kuhu will reveal the theme to be celebration of break up as Yashpal wanted something different.Both the families perform to a song and later Vishamber declares the Rajvansh family as winners.
Kuhu and the Rajvansh family gives a stunning performance along with Yashpal. Next Mishti will sing and perform with Abir on Saathiya mere song and will tell him she did it specially for him.Abir will tell her he can do anything special and all the women give a great performance.
The chandelier above will get lose and Vishamber notice it and shout for Mishti who was dancing with Abir directly below.Abir will fall with Mishti at the right moment saving her. His hand will bleed. Lakshman who was in the disguise of servant will run pushing past Kunal and Kuhu .Shourya stop him and Yashpal remove his moustache and will tell everyone he is Lakahman who work for Meenakshi.
Abir threaten to call police while Kuhu find a candle and rope assuming he must have done it. Rajshri will interrupt and tell them she had kept the candle there not knowing the rope for chandler goes from there. Meenakshi will come and accept she called Lakshman to show her festivities through video call. Abir will go from there angrily.
Stay tuned for more updates on your favorite shows.