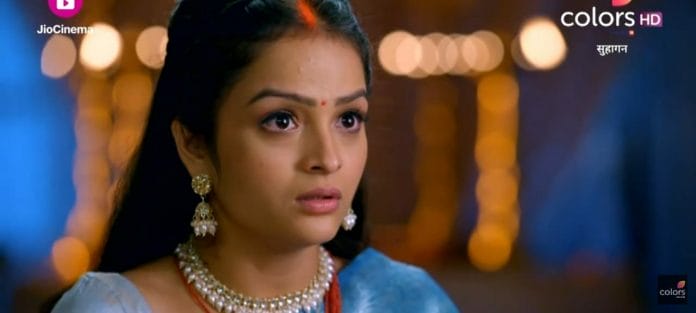 Suhaagan Spoilers, Upcoming Story, Latest Gossip , Future Story, Latest News and Upcoming Twist on justshowbiz.net
Colors TV's newly launched mega show, "Suhaagan," which starts Akriti Sharma and Kurangi Nagraj. Kurangi Nagraj as Payal is The Sister of Bindiya in the Serial. This show is conceptualized by Vivek Bahl. Bindiya and Payal are two sisters. Bindiya has married the love of Payal, Krishna. But she doesn't know the truth behind their relationship. Bindiya starts to take the responsibility of the Shukla house. Now, Payal wants to get back her love spoiling the happiness of Bindiya.
In the current track, Krishna declares that he wants to give a gift to Bindiya. No one can understand what is going in the mind of Krishna. Bindiya hesitates to open the box but Krishna asks her to do it asap. Opening the file, Bindiya sees there are some official documents. She asks Krishna what is written in these papers.
Krishna explains that this are divorce papers and inforces Bindiya to sign the papers and also orders to get out of his life and their home. Payal smirks seeing the teary face of Bindiya. Krishna finalizes that he wouldn't let anyone else to take decision of his own life.
Bindiya repacked the gift box and returns that to Krishna. She says she can't receive that gift because in return she might loss her suhaag, her hunband Krishna. Bindiya explaining herself to Krishna, how she have been here after so much disrespect, only because of her Suhaag.
In the next track, Krishna bill force Bindiya to get out of the house, but Bindiya will go anywhere. Baldev will also support her younger daughter in law.
Krishna to give the divorce to Bindiya! How would Payal win the game! All these questions will be answered in the upcoming episodes.
To know more about what's happening in your favourite shows, keep checking this space