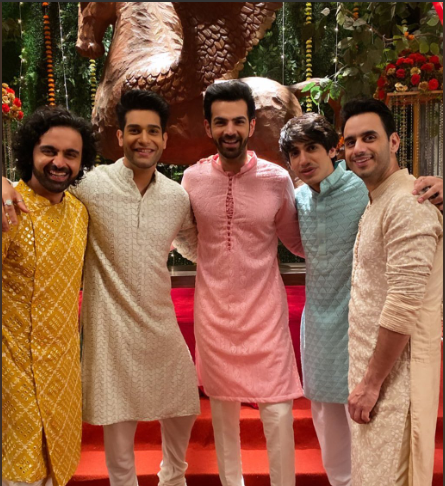 Show Kahaan Hum Kahaan Tum is gearing up high voltage drama.
In the show ahead, Rohit and other Sippy boys will enjoy bachelorette and Sonakshi will get shocked learning about the same and will plan to teach Rohit a lesson.
Last we saw, Rohit and Sonakshi's sangeet ceremony is done. Ronakshi magically performed on Maahi Ve song. Here, Raima  gets upset when Rohit refuses to dance with her and chooses Sonakshi over her.  Afterwards, when media gets upset with Naren Sippy for misbehaving with them, Sonakshi on be-half of him apologize to them. Sonakshi patiently handled the situation and addressed the media as her family and invites them for her Sangeet. Naren Sippy gets impressed with Sonakshi and welcomes her to the family.
Other side, YK's mother manipulates Suman and latest report says soon Suman will receive pre-nuptial agreement and will get angry on Rohit and his family. Suman and Naren will have face-off and what next will happen in the show will be interesting to watch.
In the upcoming episode will see, Rohit, Yk, Rohan and Ajit will enjoy Rohit's bachelorette. Sonakshi will learn about Rohit's act and will decide to teach him a lesson. Meanwhile, Rohit's aunt Nishi will come back and will get shocked after knowing about Rohit and Sonakshi's wedding.
Do Nishi will go against Rohit and Sonakshi's marriage or will support Sonakshi? Do Raima will have a change of heart towards Sonakshi and will plan to avenge her? What Mahesh will do to stop Sonakshi and Rohit's wedding? Well, for all the answers keep watching Kahaan Hum Kahaan Tum, mon-fri on Star Plus.
Stay tuned with us for more news, spoilers and latest updates.