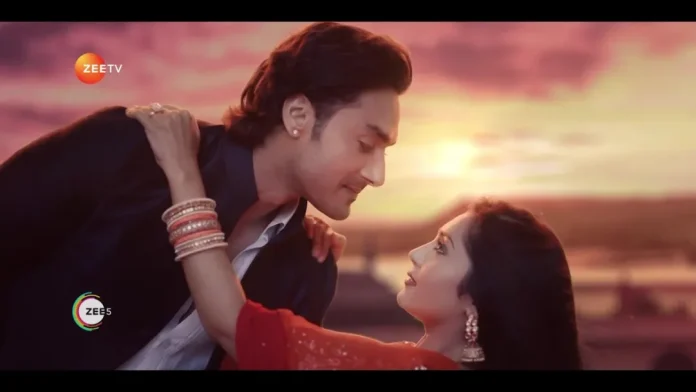 Tere Bina Jiya Jaye Na  Upcoming Story, Spoilers, Latest Gossip , Future Story, Latest News and Upcoming Twist on Justshowbiz.net
Episode starts with Devraj asking Vamika to leave the palace. He lashes out at her and orders Jaya to shift her to some other palace. Whereas, Vamika cries and glares at Krisha for ruining her plan. Jaya acts furious in front of everyone and rebukes Vamika. She drags the latter towards the door and declare her to go away from their sight. But, in reality she gets emotional seeing her daughter's state and apologises to her that she won't be able to save her at this time. She promises Vamika that she will take her revenge from Krisha and will soon bring her back to the palace. She insist the latter to leave from there at that point of time. Both of them looks at Krisha with hateful eyes and then Vamika goes away from there.
Here, Virendra whispers to Jaya and makes fun of her situation. Whereas, Naina states that Krisha is one step ahead of them. Ugra gets relieved thinking that they got saved, while Gajvardhan ask her to rethink about her decision of helping Jaya. He states that Krisha has more power in her hands and they should change their support towards her.
Jaya sees Vamika's photo and gets emotional. She determines to teach a lesson to Krisha. Whereas, Krisha and Devraj sits facing one another. They think about initiating a conversation but stays silent. Krisha starts talking to him, while he shows his gratitude towards her for helping him. She stages that if she will not help him then who will do it? They both smiles and discuss about their fight.
Elsewhere, Krisha proclaims that she have full faith on Devraj but states that he doesn't have that much of trust on her. He clarifies his intention to her and tells that he loves both Jaya and Krisha equally and can't choose in between them. He tries to make her understand about his perspective and states that he wants to enjoy this phase of parenthood with her.
Devraj tells that he can't bear anything wrong about Jaya, while Krisha gets into thinking. She then visits Jaya and proposes a deal for one another. She tells her that Devraj really loves her and won't be able to bear her betrayal. She assures that she won't tell him anything about Jaya's conspiracy or relationship with Vamika, but ask her to promise in return that she won't try to harm Devraj anymore.
Ahead, Krisha tells Devraj that she wants to start a new beginning with him. She ask him to forget about their conflicts and assures that she tried to end her misunderstandings with Jaya. At that time the latter comes there and tells Devraj that Krisha is right. She states that the misunderstandings happened because of Vamika and now everything is fine in between Krisha and her.
Devraj gets happy and reunites with Krisha. Whereas, the latter goes inside Jaya's room and tells that if she tries to betray then she won't spare her. Krisha states that she will always stand as a shield for Devraj, while Jaya reminds Krisha about her promise that she won't reveal about Vamika to Devraj. The latter assures that the secret will remain safe. She also gives the palace keys to Jaya.
Further, Rati and Virendra hears Ugra, Naina and Raghav's conversation. Their talks ill about Krisha, while Virentgets furious and pours water on Raghav. Meanwhile, Virendra and Rati warns Krisha about Jaya, while the latter says that she wants to make peace with Jaya. She tells about her reason, while Virendra shows his support towards her. She then tells a plan to Virendra and ask him to do it.
The episode ends.