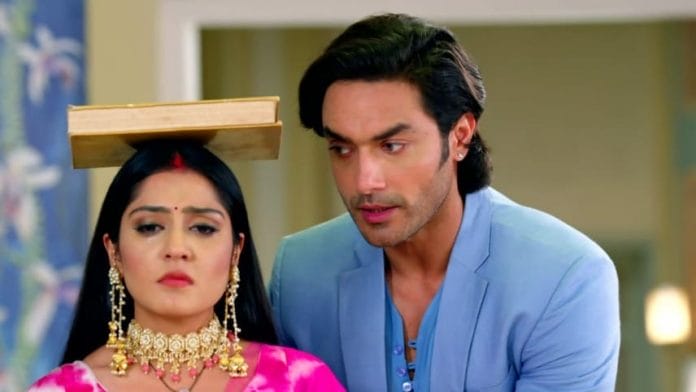 Tere Bina Jiya Jaye Na  Upcoming Story, Spoilers, Latest Gossip , Future Story, Latest News and Upcoming Twist on Justshowbiz.net
Episode starts with Krisha feeling sad and walking around the garden along with Virendra. The latter tries to cheer her up and cracks some jokes, but she looks uninterested. He gives her a flower and says that he will always support her. He proclaims that soon Jaya's truth will be out and Devraj will be free from her trap. Krisha gets emotional and shares her worry, while Virendra decides to tell the truth to Devraj himself, but Krisha stops him stating that the latter won't believe him and will say that she has instigated him against Jaya.
Here, Krisha says that soon she will expose Jaya and goes inside along with Virendra. Meanwhile, Vamika goes to a party and Krisha along with Virendra sees her. The latter gets scared of her and remembers the torturous days of his life, when Jaya and Vamika kept him inside the basement.
Virendra notify Krisha about Vamika and says that she used to beat him badly. Krisha gets shocked and tries to calm him down. She ask him to remember it carefully, while he confidently says that Vamika is related to Jaya. Krisha decides to find about their relationship and states that she was already suspicious about them.
Elsewhere, Krisha goes inside Vamika's room and starts searching for some proofs. She checks her bed and drawers. She then moves towards the cupboard and finds an album, while at that time Jaya cokes towards the room. Krisha gets alert and hides behind the pillar, while Jaya gets shocked seeing the state of the room.
Jaya cleans Vamika's room, while Krisha eavesdrop her. She becomes suspicious about the way Jaya was concerned for Vamika, while the later gets the album in which her and Vamika's pictures were there. She takes it away with her but forgets her phone in the room. At that time Vamika calls Jaya, while Krisha picks the phone.
Ahead, Vamika says that she will get late and ask her to manage the situation inside the palace. Vamika calls Jaya as her mother, while Krisha becomes stunned and gets confirmed about her speculations. Whereas, Jaya returns back to the room and takes her phone from there.
Krisha tells Rati about the relationship of Jaya and Vamika. She also notify Virendra about the truth. Meanwhile, Vamika comes back being intoxicated and Jaya looks after her, while Krisha challenges to expose her. Jaya scolds Vamika inside the room for her careless behaviour, while the latter notify her about their phone conversation. Jaya speculates Krisha finding about their relationship.
Further, Krisha tells Devraj about her suspicion while he gets furious at her. Virendra takes a stand for Krisha and tells Devraj about the truth. He denies to believe them and says that Krisha manipulated Virendra against Jaya. Meanwhile, they goes inside Jaya's room and Devraj ask to check the album. Jaya denies all the allegations, while Devraj looks at her.
The episode ends.