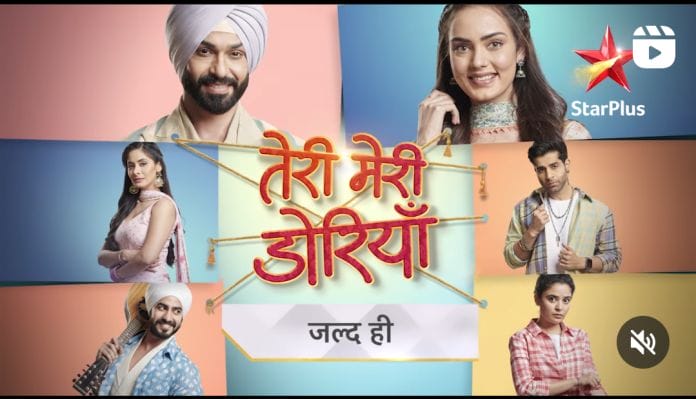 Teri Meri Doriyaann Upcoming Story, Spoilers, Latest Gossip, Future Story, Latest News and Upcoming Twist, on Justhowbiz.net

The episode starts with Sahiba saying to Seerat she is getting a call from an unknown number. Seerat says let's ring, it must be some useless chap. Sahiba thinks what if it's something important? She attends the call. Angad says hello. Sahiba realizes it's Angad's voice. She asks who's this? Seerat takes the phone and asks who's talking. Garry takes the phone from Angad and talks to Seerat. Garry says to Seerat on the phone that he planned a date for her and Angad. Seerat thinks Garry is smart, unlike Angad. Seerat agrees for a treat. Garry says for that date there is a condition. Seerat asks what is the condition. Garry says it's your treat so you have to pay for the treat. Seerat gets confused but agrees to his condition. Garry says he will message her place and time.
Kirat sees Seerat smiling to herself and asks if she got any jackpot. Seerat says yes, I have hit the jackpot but some conditions apply. She leaves. Veer comes to Angad and asks why he looks angry and asks if Garry again spoiled his deal. Angad asks Garry 'why to put a condition that Seerat will pay the bill on the date?' Veer says so it's about love, not a business. Garry says you don't know anything about current dating and currently girls like equality. Angad says I know and it's good if we share the bill and I'm taking her on a date so it's good if I pay the bill. He says if she insists then I may ask her to pay in the next time. Veer teases him. Garry thinks he will spoil his first date itself. He asks Angad to follow his advice. Prabjyot comes there and asks Angad to follow Garry's advice. Garry thinks to make Angad lose respect in Seerat's eyes.
Seerat asks Sahiba to give her 10k. Sahiba gets shocked and says she doesn't have that much money. Seerat says you can give it and I need it badly so please arrange it for my date with Angad. Santosh feels happy knowing Seerat going on date with Angad. She asks what's the date. Seerat says if a girl and boy are meeting alone then it's a date. She asks Santosh to tell her to give 10k. Santosh asks her to give her.
Sahiba says 10k is a big amount and I can't give such a fat sum. Santosh goes to attend the call. Sahiba takes money from book. Seerat takes it from Sahiba and denies to return. Santosh asks Sahiba to let Seerat take it and you will do something for our house expenses. Sahiba says I will work but your love is spoiling Seerat. She asks Seerat won't she care for family members. Seerat says she cares but money is needed to maintain her image in front of Angad. Santosh requests Sahiba to allow Seerat to take money. Sahiba agrees.
Manveer asks Angad why he is going on a date when he said he follows elders' decision. Angad says Garry fixed it. Manveer says no problem, you can meet Seerat when we were her parents. Angad agrees. Inder mocks them for not involving him in their decisions. Manveer rebukes him. They argue. Angad stops them and says he learned good things from both of them. Inder says you like to impress everyone. Inder says to Angad that he doesn't speak bitter words and he only speaks the truth. Inder advises Angad to listen to his heart and not to think of their elder's wish as the will of God. Manveer asks Inder to first understand what is in his son's heart. Inder comments on it.
Sahiba worries about what to do about Kirat's college fee. Kirat asks Sahiba not to worry as she will take care of her fee. Sahiba asks Kirat how is that? Kirat says she knows some people in the student union and they will talk to the principal and think of something. Sahiba warns Kirat to stay away from them. Sahiba says she will think of something. Sahiba says she wanted to go to college but she couldn't because of our circumstances. Kulche asks Kirat if she really studies or not? Kirat warns him. Sahiba asks Kirat to take care of Seerat as she is going on a date with Angad. Kirat comments on it.
Mr Chadda brings a few parcels to Santosh's house that she ordered as they are going to the Brar's. Mr Chadda gives the bill to Santosh but Santosh tells them to give it to Sahiba and she will pay them. Mr Chadda agrees and leaves from there. Kirat asks Santosh if she doesn't feel that she is putting too much pressure on Sahiba? Santosh comments on it and tell her to go and bring the boxes inside. Seerat comes and says to Santosh that Garry has told her that he is sending car to their home. Seerat says she gave the wrong address and there is no need to worry for her and asks her to stay there. Santosh agrees.
Kiara shows her design to Angad. Angad doesn't feel impressed with Kiara's design and asks Kiara why is her design this time average and worse than her last designs designs. Kiara gets worried that Angad might find out that these designs are not hers. Kiara covers it up and apologises and asks Angad to give her another chance. Angad agrees and give her another chance. Angad also reminds Kiara that Brar's new jewellery designs are going to be launched soon.
Mr Chadda gives the bill to Sahiba. Sahiba sees that the bill is Rs 8000 and asks Chadda what did she buy? Chadda says Santosh said they are going to do Seerat's marriage to a rich household so they are taking fruits and sweets. Sahiba assures Chadda that she will pay her bills in installments. Sahiba agrees. Chadda agrees. Sahiba thinks of how can she pay the money.
Episode ends.
Precap – When Seerat comes to the palce said to her. She gets harassed by a few guys. Sahiba sees that Kirat is hurt and asks her what happened. Kirat says someone was harassing Seerat and she got into a fight with them. Sahiba asks Kirat where was Angad at that time. Kirat says he didn't even reach there. Sahiba blames Angad for all this.
Click to read
Teri Meri Doriyaann 27th January 2023 Written Update: Sahiba shares her doubts with Ajit