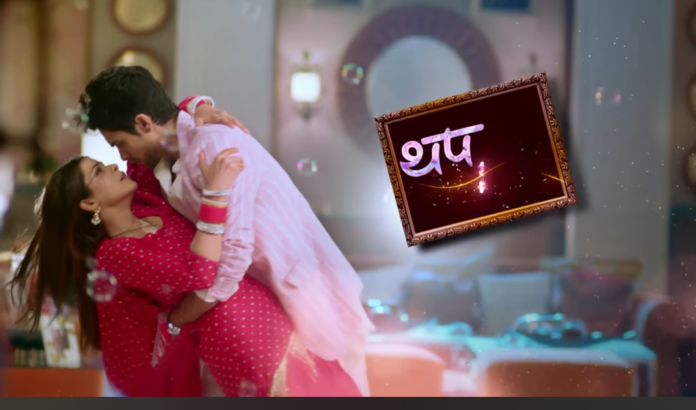 Thapki Pyar Ki 2 Upcoming Story, Spoilers, Latest Gossip, Future Story, Latest News and Upcoming Twist, on Justhowbiz.net
The episode starts with Hansika making Thapki unconscious and she takes her mangalsutra and says it's time for her to take her place. Sargam reaches unreachable then she goes to Thapki's room. Hansika asks her men to take Thapki out. They tie Thapki and places her in the basket. Sargam comes there and asks what are they doing in Bhabhi room and what's in that basket. Hansika says they came here by mistake and she sends them. Sargam asks Hansika, where is Thapki. Hansika says she might be downstairs with Jaya aunty. Sargam leaves. Hansika calls her Mom and tells her she sent Thapki with their men and asks her Mom to make Thapki get tested to expose her fake pregnancy.
Pandit starts the pooja. The goons tries to take Thapki out in the big basket. Pandit asks Purab to sprinkles the gangajal. Sagar thinks of romancing with Preeti in their house itself and he throws chit at her to meet him in the storeroom after half an hour. Hansika gets ready in similar attire like Thapki. Purab sprinkles gangajal in the house and apple come his way from mandir he places his feet on apple and gangajal vessel fall on the basket. Thapki gains consciousness because of that water. Purab notices goons are scared then he asks why they looks tense and asks what's in the basket. Thapki feels helpless in the basket as she is tied up in the basket. Goons says it's pooja mandap things. Purab asks them to leave. Thapki swings in the basket which alerts Purab then he stops them.
Hansika covers her face hearing the foot steps sound. Sapna takes Hansika with her for pooja assuming her as Thapki. Purab asks them why it's moving. Hansika feels tensed. Goons tells they are feeling weak because of the continuous work. Purab goes near it but Vinod stops Purab and takes him saying Thapki has arrived. Thapki gets stunned. Men takes Thapki with them. Hansika sits in pooja with Purab and plans to send Thapki out from house with her sonography report. Goons calls his men to bring the tempo. Thapki sees Nail in the basket and she removes plasters with help of it. Goons discuss to take her to hospital and they places basket in tempo. Thapki thinks who are these people.
Pandit asks them to place ghee in havan. Hansika holds his hand and he thinks her touch is different. Sargam brings diyas and tells Hansika that she us going to hospital as she is getting stomach ache. Pandit asks them to place diyas near door steps. Thapki prays for Maata rani help. Diyas fall from Hansika hands due to bad weather. Veena says oil fadien which is bad. Pandit sends Thapki to change her Duppatta. Sargam leaves to hospital. Thapki comes wearing Duppata. And she holds Purab hand and they places Diys near Maata rani. Purab senses she is Thapki. Pandit asks Purab to take Thapki in his hands to start the pooja. Ghoonghat removes from her face and it's Thapki. They takes the rounds around Haavan. It's revealed how Thapki escapes from tempo and she returns her room and notices Hansika in similar attire like her.
Episode ends.
Precap -Thapki confronts Hansika asking if she did this then Hansika says yes as Purab is mine and will always be mine. Thapki says Purab was never yours and he is my husband and she takes mangalsutra from her and says he made me wear this, and your sindoor is not of any importance as it is not of Purab's name and he married me with the blessings of elders and ritual.
Click to read
Thapki Pyar Ki 2 23rd January 2022 Written Update: Hansika executes her plan to take Thapki's place in pooja