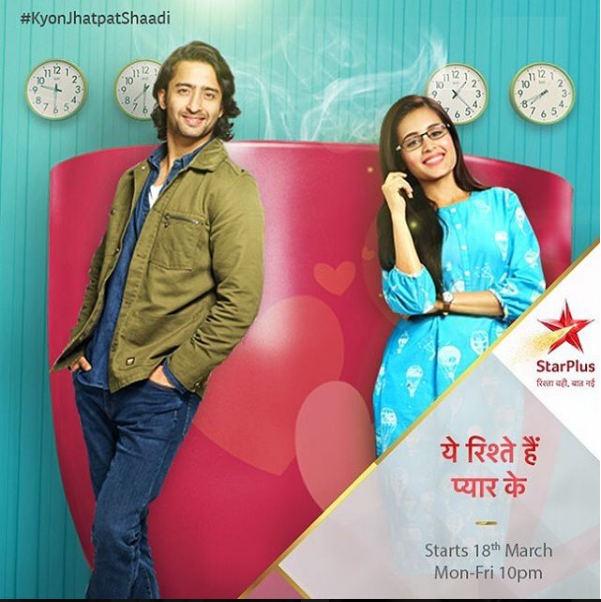 Rajan's Shahi spin-off: Yeh Rishtey Hai Pyar ke another new promo is out. Shaheer Sheikh and Rhea Sharma starring show is missing no chance to awfully promote it in order to increase the curiosity level of the viewers.
Under the hastag #KyonJhatpatShaadi the makers have released few promos and recently another new promo is out and this time- how the way of Abir and Mishti will bump into each other for the first time; the promo is highlighting that.
About the Promo:
The meeting of Abir and Mishti for the first time seems to be dramatic as per the promo. The duo has landed up in the same bus, sitting over its top and unknowingly getting drew to each other because it's all about #dheeredheereSe meri Zindagi meri aana. Shaheer Sheikh as Abir in Gujarati attire and joyful mood is looking adorable while Rhea Sharma look as Mishti is cuteness overloaded.
The promo is appealing and tempting and it's catching the attention of the viewers. Excitement level is more up when Shaheer Sheikh took his instagram account and posted the new video with the hastag #dheeredheereSe, #amorouslyAbir. No sooner he posted the video the fans shooted their excitement for this show and his comeback in the comment section. Check it!
Yeh Rishtey Hai Pyar Ke will raise its curtain from 18th March at 10pm on Star Plus. The show is a spin-off of star plus longest running show Yeh Rishata Kya Kehlata Hai and the story of a show will focus on Mishti who played the character as Naira's cousin in Yeh Rishata Kya Kehlata. So Don't miss to tune in Yeh Rishtey Hai Pyar Ke from 18th March Mon-Fri on Star Plus.
Stay Tuned With Us for More Exciting Updates.