Since its inception, ZEE5 has been streaming some of the best shows and movies. But their collection of Tamil movies online, in particular, has a variety which one surely cannot afford to miss out.
The Tamil film industry is also making a variety of films by experimenting with different genres. An online platform like ZEE5 has spread its wings in every aspect. From watching bold, content-driven series to experiencing regional shows and movies, the web platform is making the way easier to watch some great movies online.
Now, if you are looking for some good Tamil movies online on ZEE5, then here we have listed some of the best Tamil comedies available to watch on the platform right now. Soodhu Kavvum, Maragadha Naanayam, Meyaadha Maan and Vaayai Moodi Pesuvum, these quirky comedies should be in your binge plans of Tamil movies online.
Soodhu Kavvum
Directed by Nalan Kumarasamy, Soodhu Kavvum is a 2013 Tamil language black comedy crime. The show throws light on how silly talk has engulfed people's day-to-day life and modern society. The plot of the story revolves around a kidnapper Das who has set a few rules for kidnapping and his first rule say he will not kidnap people who are rich or from a political background. But what happens when he ends up breaking his first rule? The kidnapping makes you enjoy the movie at its best.
The movie features, Vijay Sethupathi, Bobby Simha, Ashok Selvan, Ramesh Thilak, Karunakaran and Sanchita Shetty in the lead.
Soodhu Kavvum received positive reviews from the critics and this 2013 movie went on to become a commercial success.
Maragadha Naanayam
Starring Aadhi and Nikki Galrani in the lead, Maragadha Naanayam is a horror comedy. The story revolves around a king was buried with an emerald and someone retrieved the stones from his grave. Further, whosoever touches the stone dies of unnatural causes. Later, a Chinese businessman comes to the city and hires a contractor to find the emerald. What follows forms the rest of the story. Entertaining, quirky and hilarious, Maragadha Naanayam is a treat to watch.
Meyaadha Maan
Starring Vaibhav and Priya Bhavani Shankar in the lead role, Meyaadha Maan is a fun romantic comedy movie where Madhu and Murali fall in love after lots of drama and later their ways get parted when their family comes to know about their affair. Whether their love succeeds or not forms the crux of the tale. Wonderfully directed, Meyaadha Maan brings realism to the genre and the foot-tapping music is the cherry on the cake. So, if you love to watch a good romantic comedy, Meyaadha Maan is for you.
Vaayai Moodi Pesuvum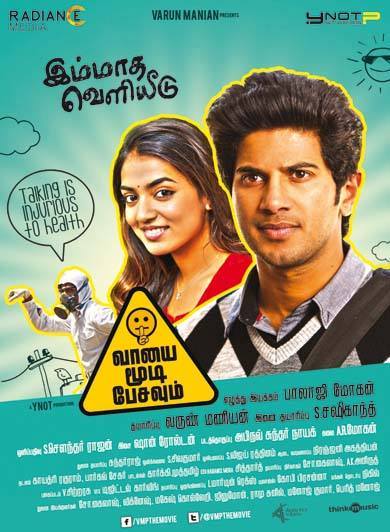 In the movie, the mute flu takes you on a laughing ride where one catches the virus if opens a mouth to speak. Balaji Mohan's- starring Dulquer Salman, Nazriya Nazim and Madhoo, a 2014 Tamil movie Vaayai Moodi Pesuvum is a satirical romantic comedy that highlights' the power of words and its importance in our lives.
In the movie, speaking gets banned in a small town and everyone is forced to adjust to the living without speaking. How the townspeople solve this weird problem forms the conflict of the feel-good movie.
With such amazing Tamil Movies online on ZEE5, your binge watch plans should be sorted now. So, go ahead and get your ZEE5 subscription now. Keep visiting this space for more exciting news and updates.