Shashi Sumeet Mittal and Sumeet Hukamchand Mittal produced; show Dil se Dil Tak was nearly based on Bollywood movie Chori Chori Chupke Chupke.
Shows storyline revolved around the three lives that coupled together under an uncertain situation. And in the character of Parth, Shorvori and Teni; actors Siddharth Shukla (which was later replaced by actor Rohan Gandotra), Rashmi Desai and Jasmin Bhasin did justice with their role. The three of them won the heart of the audiences and even now the trio is missed on-screen.
Dil Se Dil Tak plot focused on surrogacy and the tracks of the show was high on drama. So today will take you down to the memory lane of the story of Dil se Dil Tak. How Parth and Shorvori meet Teni to why Teni and Parth ended up tieing the knot with each other? Check out the full story below.
Shows story start with the Bhanushali family. The grandson of the family Parth Bhanushali fallen in love with the Bengali girl Shorvori who works in his office. In spite of refusal from the family for marrying a Bengali girl; Parth married Shorvori and brought her home.
Bhanushali family refuses to accept Shorvori as their daughter-in law but with the change of time, few members of the family started supporting Shorvori. Afterwards, Shorvori gets pregnant and that made the Bhanushali family to accept her. But things got messed up after Shorvori met with an accident and suffered miscarriage. She had been declared infertile and Parth and Shorvori mutually decide to hide the truth from the family.
Other side, Teni a carefree girl who dreams of settling in the US meets Parth and Shorvori. The couple chose her as a surrogate and offers her the money so that she can fulfill her dreams. Left with no option Teni accepts the offer and enters the Bhanushali house, as Shorvori's cousin.
Bhanushali family fixes Teni's alliance with Aman (character played by Kunal Verma) but Aman learns about Teni's surrogacy truth and calls off his engagement with her. Here, Teni starts falling for Parth and after series of incident her truth came out in front of the family. Parth's family learns that Teni is a surrogate of his and Shorvori child. Indu accuses Shorvori for hiding the truth. Later, misunderstanding separated Parth and Shorvori.  There, Teni learned that Shorvori is suffering from fatal brain tumor.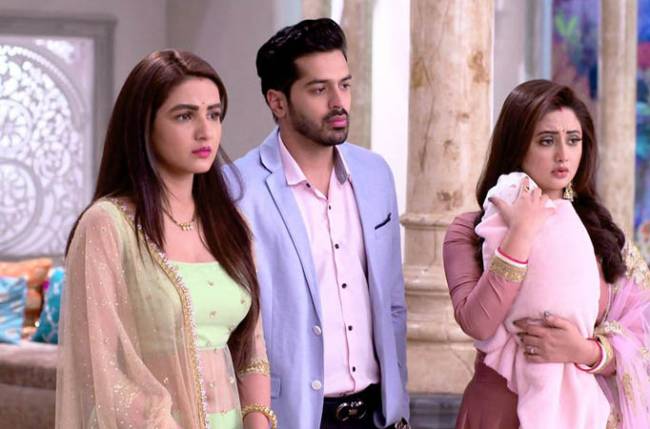 Shorvori took promise from Teni to hide the secret and after she dies marry Parth. Shorvori took her last breath in front of Teni.  Parth accuses Teni for killing Shorovri. Teni gives the birth to baby girl Ipshita. Ipshita gets kidnapped by Parth's sister fiancé Rishabh. The duo teams up together and rescues Ipsihita from his trap. Afterwards, Parth confesses his love to Teni and marries her. There, Shorvori learns about the marriage and started a new life, as a music teacher at Nainital.
Parth and Teni learn about Shorvori being alive and bring her back home. Later, differences between Shorvori and Teni made Teni to leave the house. Teni falls down from the stairs and suffers a memory loss. She misunderstands Bhanushali family and runs away from the house.
The show took the leap of 6 years after that.
6 YEARS LATER!
Shorvori dies and Teni has been missing. Teni started her new life at Delhi and all set to tie the knot with Iqbal. But series of incident again bring Teni and Parth together. Teni regained her memory. And show ended on a happy note with Parth, Teni and Ipshita sharing a happy life together.
How much you miss the show, shoot your views in the comment box.
Stay tuned with us for more news, spoilers and latest updates.