2008's super hit, Dostana, Starring Abhishek Bachchan, John Abraham and Priyanka Chopra, was one of Bollywood's most well-received movies, instantly becoming a fan favourite. Dostana opened to positive reviews from critics, who were all praise for the performances and chemistry between the three leads, along with the direction, music and humour of the film.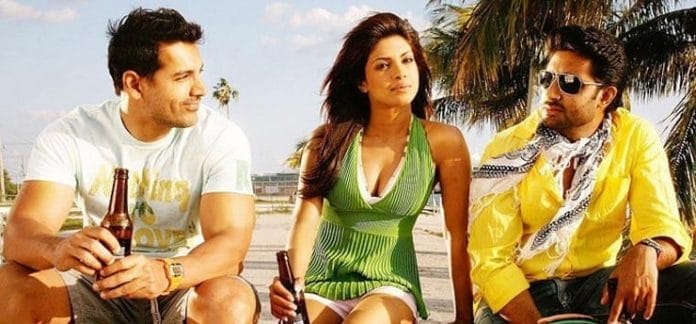 The film is based on two bachelors, who pretend to be gay to share an apartment with a girl, with both falling in love with her over the course of the story. The story resonated among the audiences for several reasons, quickly making it one of the best films of the year, and a definite must-watch for Bollywood Fans
Here are 5 things that helped make Dostana a cult favourite
Desi Girl
Dostana gave us many hit songs, like Maa Da Ladla & Khabar Nahi, each as good as the last. However, one song stands out among the lot, the evergreen Desi Girl. Desi Girl is till today, one of the most popular songs, played at parties, sangeets, weddings and nearly everywhere else on a regular basis. The chemistry between the three actors was electric, amplifying the heat throughout.
Insights on Life as a Bachelor
The story of Dostana is about two bachelors, pretending to be gay to move in with a girl It also highlights how John Abraham and Abhishek Bachchan's characters face difficulties in finding a place to stay and paying rent. It is also a tale of friendship, struggle, love and laughter, things that many of us will be able to relate to.
The chemistry between Abhishek and John
As mentioned before, one of the most important factors in making Dostana the classic it is, was the chemistry between the leads, Abhishek Bachchan and John Abraham. Together they made one of the best duos Bollywood has ever seen. The chemistry between John and Abhishek was one of a kind, especially given the characters they were playing. Their journey from friends to roommates to partners, rivals and back to friends was beautifully shown and their dynamic was the crux of the film, adding both depth as well as humour.
A story way ahead of its time
Dostana was the first mainstream Indian film to involve a gay element, exploring a topic largely ignored by Hindi cinema at the time. The storyline was far ahead of its time, and the relationship between Abhishek and John was shown very well, even though they were only pretending to be gay.
Trendsetter for style and fashion
From Priyanka Chopra's silver saree and golden swimsuit to John Abhraham's yellow swimming trunks, Dostana set a precedent for fashion at the time, making the film extremely popular with 1the youth. The film was even ranked as the most stylish and trendsetting of its time, another reason that helped make it a popular cult classic.