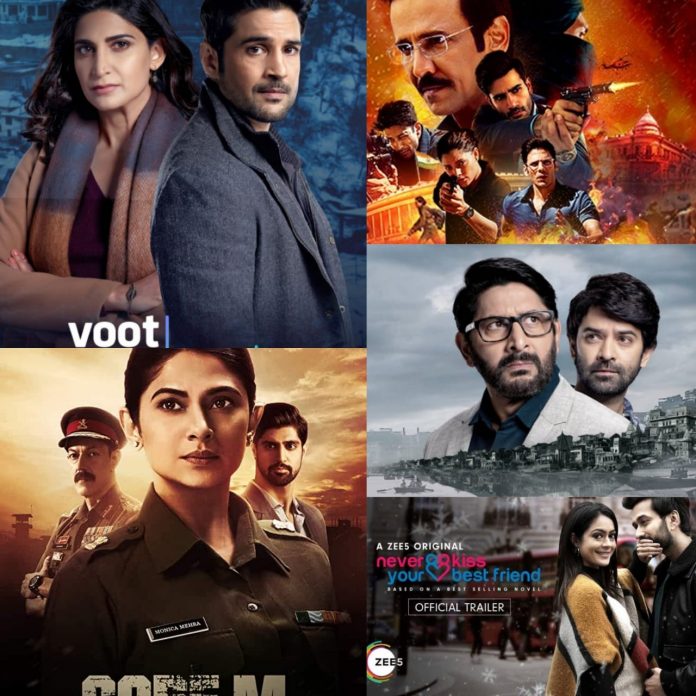 With the whole nation being locked down, people find it difficult to pass time locked up in their homes. To make your boring life a bit interesting, here are few web series that you could catch up during your quarantine period.

Code M:-


Jennifer Winget's debut web show Code M comes as a high profile investigation thriller show where Jennifer portrays the lead Monica Mehra. Monica is an army lawyer and a bride-to-be, for whom her duty matters the most. The show focuses on Monica's investigation about the encounter of two alleged terrorists and one soldier. As the investigation progress, things gets unveiled revealing that the case is not what it's potrayed it to be. The show provides the thrill factor with some top notch performances by Jennifer Winget, Tanuj Virwani and Rajat Kapoor. Rajat Kapoor stands out in his top class performance as the suspicious old colonel. Seema Biswas potrays a very small yet very powerful character in the show. On the whole, Code M is a must watch for thrill loving audience.

Asur :
As the title suggests, the show focuses on a real life demon who considers himself to be an Asur, the one who lost all the humanity according to mythology. The show touches few parts on hindu mythology books making it stand out from the other murder mystery shows. Senior CBI officer Dhanajay Rathore played by Arshad Warsi gets blamed for his wife's murder. Former CBI Forensic expert Nikhil Nair played by Barun Sobti gets entangled in the case and starts his investigation. Before he could het back tonhis work officially, a series of killings takes place with bodies recovered from drainage. With mind blowing performances and a grippy storyline, this show becomes a must watch for everyone.

Marzi :-

Rajiv Khandelwal and Aahana Kumra starrer Marzi touches the most sensitive topics like Me too in a delicate yet convincing way. Rajiv Khandelwal potrays the character Anurag, who's a doctor by profession. During a dinner date with Sameera played by Aahana, things change for the worse to him. Anurag gets blamed for her rape by Sameera shocking the former. With lots of twists and turns, the show also concentrates on minute yet important details like how a rape victim is treated during investigation and many more. The show leaves the audience confused about whom to support, thus making it successful in gripping them to their seats till the end. Thus Marzi qualifies as another must watch show with its brilliant performance and engaging storyline with a social message.
Never Kiss Your Best Friend :-
Having had enough of mysteries and crime thrillers, the audience might be in a need for soft romance and Never Kiss your Best Friend provides them the same. Nakul Mehta and Anya Singh starrer Never Kiss your Best Friend is an adaptation of Sumrit Shahi's book of the same name. The fresh pairing of Tanie and Sumer clicks well with the audience. The story starts with their friendship and then it gets slowly progressed into love with lots of entertaining elements in it. On the whole Never kiss your Best friend is that stress buster show in your stressful quarantine period.

Special Ops:-
Special Ops focuses on RAW officer Himmat Singh played by Kay Kay Menon and his never ending search for a man whom no one believes to even exist. Himmat firmly believes that a master mind exist behind all the terror activities. The spy thriller focuses on Himmat's effort to catch the ruthless Ikhlaq Khan with the help of his aids played by Karan Tacker, Vipul Gupta and Meher Vij. The show is a must watch for spy thriller lovers given the splendid performance by every character especially Kay Kay Menon and Karan Tacker.

So what are your picks for this quarantine period among the above shows? Drop your views in the comment section below.