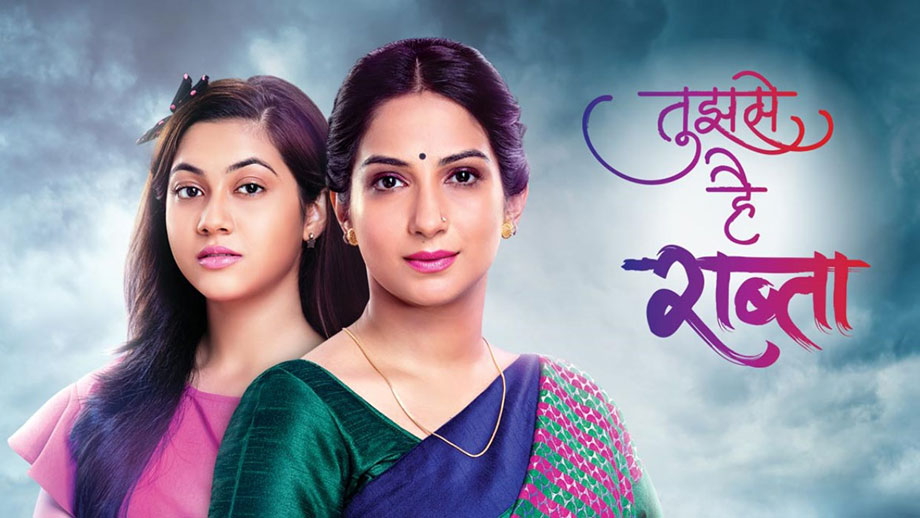 Tujhse Hai Raabta Upcoming Story, Spoilers, Latest Gossip , Future Story, Latest News and Upcoming Twist, on Justhowbiz.net    
Episode starts with Malhar takes Pheras with Kalyani Infront of Moksh, both promises to support eachother in every phase,Kalyani hugs him than he shows her full moon, both romances while enjoying the full moon. Moksh makes happy noises too. Kalyani and Malhar adds their rings in chain and makes Moksh wear it and says Moksh you're the witness of our 7pheras. Trilok writes Moksh name with pin and crosses it.
Next day Pallavi informs to Aaosaheb that Dalkana will return after his exams. Aaosaheb says I will join him here and I can't stay away from my Deshmukh heir. Pallavi feels happy thinking finally her prayers are answered. She gets call from Nal and she asks him to return immediately so she can tell important news to him He says he is on the way. Pallavi says it's good.
At hospital doctor says we can start the procedure of Moksh operation once Trilok arrives to hospital. Malhar says doctor please give less anesthesia to Moksh because he is very small. Sarthak says don't worry, doctor will take care of it. Doctor leaves. Malhar gets Kalyani video call. Malhar tells her that Trilok haven't come till now and Moksh is taking rest. Kalyani gets tensed and says he didn't elope from custody right. Malhar gets tensed too and thinks to check by himself but when he about to leave Rao and Pawar brings Trilok to hospital. Malhar shows Trilok to Kalyani and asks her to pray for Moksh. Kalyani says she will pray for Moksh and ask him to take care of himself and Moksh.
Trilok says don't celebrate because operation is not yet done. Malhar says it will happen for sure and only God can stop it and you're not the god. Aaosaheb says Vivek,Nal, Godavari didn't reached yet. Pallavi says Nal wokeup late and missed the bus but he is coming in other bus. Aaosaheb says we can't wait, let's start Pooja Kalyani.
Malhar informs to doctor that he submitted the concern paper to nurse. Doctor says don't worry and gives anesthesia injection to Trilok. Kalyani performs Pooja at home and notices her mobile every minute. Doctors take Trilok to operation theatre and he folds his hand tightly. Sister runs out from operation theatre and asks other sister to call pediatrician immediately. Malhar asks what happened but she moves to operation theatre without answering him. Sarthak consoles him. Doctor comes out.
Kalyani gets Malhar call and gets to know operation is completed. Kalyani happily informs to Anupriya and others. Malhar thanks Doctor. Doctor says Moksh will get conscious soon. Malhar asks about Trilok. Doctor says he is fine too and leaves.
Malhar gets Pawar call , he informs operation is successful and asks Pawar to tight the security at hospital because Trilok may plans to escape. Anupriya gives sweets to everyone. Aaosaheb asks Anupriya to send 2months ration to their workers. Swara says she will take care of it. Kalyani asks everyone to leave for hospital. Aaosaheb says first complete the Pooja feeding milk to Naag Devta.
Malhar asks doctor to give the fitness certificate of Trilok so they can submit to him in the court. Nurse informs that Trilok is missing. Malhar gets shocked and leaves with doctor to check Trilok room. Malhar calls Pawar and asks him to alert the team and than he says  Moksh and runs towards his room.
Nal talks with his Aayi and asks her to not inform Aaosaheb that he is coming and than he gets clashed with Trilok and notices Moksh with him. He runs behind Trilok but he escapes in car, Nal notices someone's car and follows Trilok in his vehicle. Malhar gets broken seeing Moksh is missing.