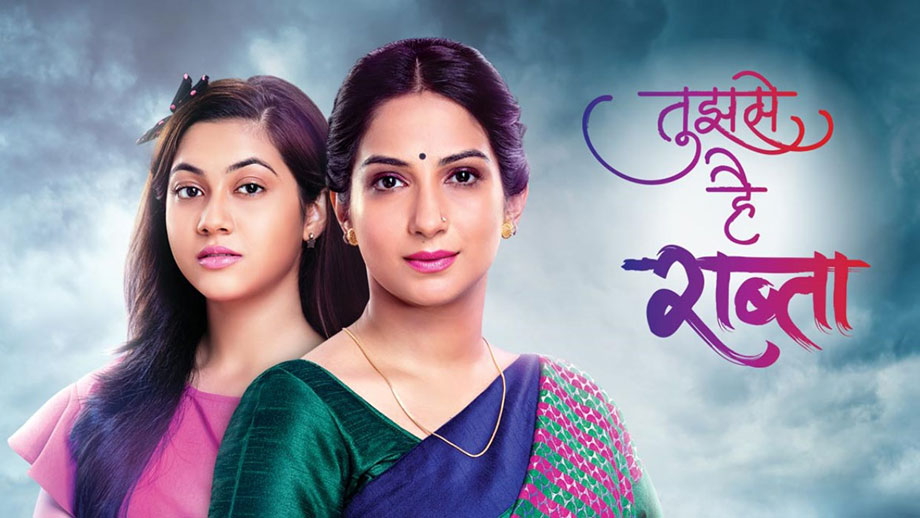 Tujhse Hai Raabta Upcoming Story, Spoilers, Latest Gossip, Future Story, Latest News and Upcoming Twist, on Justhowbiz.net
Episode starts with Shyam apologies to them for Kid behaviour. Kalyani says no need and says she have formula to make him remember everything and sings Tujse hi Rabta song to make Moksh recall his past. Moksh throws her saying you're singing very badly.
Anupriya says Kalyani is your Aayi and you can't talk in this way. Kalyani says he us upset but I know how to make him happy and tells him that how much she missed him and says they bought so many toys to make him happy. Malhar asks Kalyani to make Kheer for Moksh because it's his favourite. Kid says he don't like Kheer and hugs Shyam. Shyam says we are poor so never feed him Kheer kind of things. Kalyani asks what he likes to have with her hand.
Kid says why will I eat with your hand, I will have food with my Dad and hugs Shyam. Kalyani cries and says Malhar is your Dad and I'm your Mom. Kid asks her to leave him. Kalyani leaves in tears. Malhar goes to room. Kalyani asks where we placed the chocolates we bought for Moksh and searches then. Malhar says I know you're hurt but he is child and he can't accept sudden revealations amd he asks Kalyani to give some time to him.
Shyam informs to someone on phone saying work is done according to their suggestion. Kalyani cries saying how can he forget everything. Malhar says it's been 5years so give him some time and asks her to come out. Kalyani asks him to go saying she will come.
Shyam says these people believed after seeing that fake ring and didn't doubted that Kid is not their Moksh. Otherside Lady says let's Kalyani live with that fake Moksh because she can't found her real Moksh.
Malhar makes arrangements to play cricket and asks Kalyani to join them. Kid says he will bat first but Kalyani says she is scared to face him. Kid says I will make you out and prove that ok not scared. Pawar informs to Malhar that number got traced. Malhar says he will come later saying he is playing with Moksh but Kalyani sends him to know the persons who used to threaten Mehras and says those people are doing child trafficking so they must get punishment. Malhar goes to office.
Kalyani plays with kid and she hits 4 and 6. Shyam sees Kid is getting tired and asks why youre making him tired. Anupriya says yeah he us tired but Kalyani says he is my kid and I want to make him strong like Malhar and he must defeat to get batting. Kid feels tired and says he won't play with her. Shyam says he is tired and maybe hungry. Kalyani looks on. Kid says he is hungry.
Kalyani asks him to have food saying she made Thekha Sabji. Shyam asks Thekha? Kalyani says you said he won't like Metha dish so I prepared spicy Sabji, how you like it Pillu. Kid drinks water after eating the spicy food. Shyam says what kind of Mom you're? Who will feed spicy food to children.
Avni comes and says she is not Mother to understand the pain of kids, I got your plan Kalyani you want to come near to Malhar using Moksh but I won't let it happen and Moksh is Malhars son so he will stay with us because you're not his mother. Kalyani says how can you decide that I'm not his mother, you're outsider so stay away from us because I have heart connection with my Moksh. Avni says you planning to raise him feeding spicy food. Kalyani asks Avni to stay away from their family Matters.
Avni asks Anupriya to see how Kalyani is planning to snatch her Husband using Moksh. Anupriya says it's better if you don't raise questions on Kalyani broughtup and don't create Drama at our place. Avni challenges Kalyani saying she will get Malhar and Moksh and asks Kalyani to see how she is planning to separate Moksh from her. Kalyani says all the best. Avni leaves
Shyam asks what's she saying? Are you not Moksh's real mother? Kalyani says don't get worried, noone can snatch My Moksh from me.
Malhar enter room through balcony and adores seeing sleeping kid on bed. Kalyani says who's near my Kid. Malhar says it's me. Kalyani hides behind curtain. Malhar switches in the light and asks why she is hiding from him and brings her out and gets shocked seeing shaving cream in her face and asks what happened. Kalyani cries saying it's side affect of Brahmakamal juice ,I had one drop juice and I'm getting small beard.
Malhar says it will be set in few days and says Moksh will say you look good in this way too. Kalyani asks him to leave saying Avni might be waiting for him. Malhar says Moksh. Kalyani says let him stay with me,I don't want him to know about your new life because he can't handle it. Malhar thinks I wish to tell you about my fake Marriage.