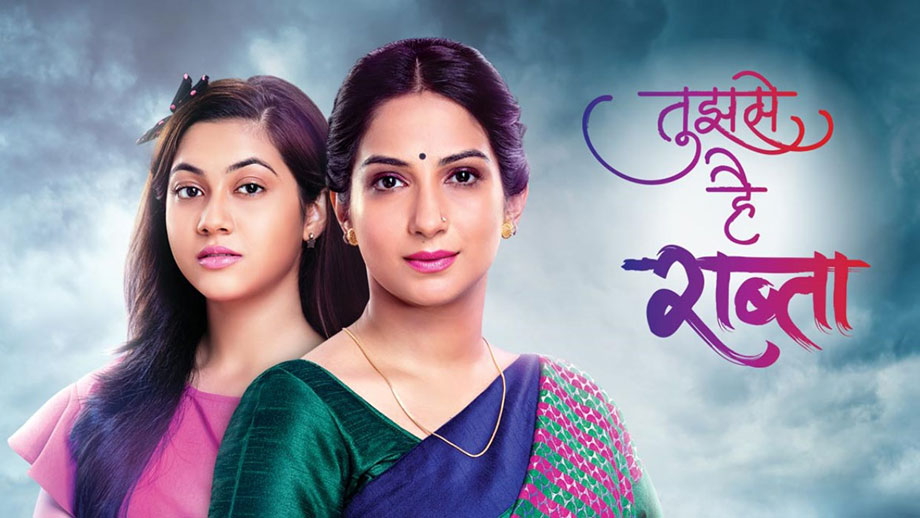 Tujhse Hai Raabta Upcoming Story, Spoilers, Latest Gossip, Future Story, Latest News and Upcoming Twist, on Justhowbiz.net
Episode starts with Malhar asks about Moksh behaviour towards her. Kalyani says Moksh wants to stay with Shyam and he is not accepting her and I asked Shyam to stay in outhouse and Moksh is sleeping with him but because of fire incident I bought Moksh to my room and I feel it's strange because why Moksh forget our bond. Malhar says he just needs some time.
Next day Aaosaheb asks Anupriya to read properly for good marks and than says don't forget that you have to make arrangements for Gajastapana at our place. Anupriya says she will make the arrangements. Shyam asks where Moksh went. Anupriya says he went out with Kalyani. Shyam says how can she take him out without my permission.
Malhar reaches to that place and says what's the need of your permission? Kalyani is mother of Moksh, we are thankful to you for raising our kid but the truth is we are her patents and why you tensed when Moksh goes out with his Mom. Shyam says I saw what kind of Mom she is and her actions are hurting Moksh. Aaosaheb asks Malhar to talk with Shyam outside and says I know your kind of people and take the money and leave from my home and stop bad-mouthing our Kalyani.
Kalyani brings injured kid to home. Shyam notices bandage to kid leg and asks what happened. Kalyani says don't worry, it's small accident which is common in childhood. Anupriya gets worried, Malhar and Anupriya asks what happened to you Kalyani? Don't you feel pain in your heart seeing his accident. Kalyani says it's small accident. Sarthak sees everything and says Did you saw Malhar how Kalyani behaving?
Than how can you address Kalyani as good Mom and I came here to take Moksh from here and you will raise Moksh with your wife Avni not these people and he about to take Moksh with him but Kalyani stops him and both drags kid to their side and Malhar asks them to leave still they won't listen. Kid feels pain. Shyam stops them and takes Kid near to him and questions whether they are planning to kill the kid and than he asks Moksh, how is he. Moksh says he is fine. Kalyani says I told you right it's small accident.
Shyam says you can't become Mom to Moksh and from now onwards I will take care of Moksh things and you broke his leg. Kalyani says it's not big matter, I will open his plaster and than you guys can notice wound is small. Malhar and others tries to stop her but Kalyani won't listen and opens the bandage. Shyam holds Kalyani hand to stop her. Malhar warns her to stay away. Shyam says tell her to stay away. Malhar and Anupriya tries to stop her but she won't listen.
Shyam raises vase on Kalyani and asks her to leave Manu. Malhar stops him. Shyam gets shocked seeing Manu is fine. Everyone gets shocked and asks what's happening. Kalyani reveals that this kid is not their Moksh and Manu is Shyam son and he bring Manu here so he can get better life. Anupriya says how you found it. Kalyani says she can sense her Moksh presence because they have heart connection and Kalyani reveals that how she played Drama with Manu to expose Shyam plan.
Manu says sorry Dad, Aunty gave me so many chocolates so I revealed everything. Kalyani says Shyam I saw your love for your son and noone can love your son like you. Malhar says how to believe that he is not my Moksh. Kalyani shows DNA reports to Malhar saying Manu is Shyam son not our son. Malhar says God is punishing me for years and God again betrayed my hope and he scolds Shyam for cheating them.
Shyam apologies to them and reveals that he just did it for better future of his son. Kalyani says no need to apologize and come to my office and I will sponsor your son to get everything and never keep him away from you because your love is precious and noone can love Manu like you. Kalyani asks Manu to have one chocolate per day. Shyam leaves with Manu.
Kalyani says to Sarthak that you didn't even recognize whether that kid is Moksh or not because you're not Moksh mother and I'm mother of Moksh and Noone Dan snatch thud right from me. Sarthak says end your drama, warns to take Moksh from her when they found him and leaves. Kalyani looks on. Malhar says don't worry, noone can snatch Moksh from you.
Shyam apologies to Akka for their failed attempt and reveals to her that Kalyani realised Manu is not her Moksh and she have the phone numbers which they used to threaten Mehra.
Anupriya,Kalyani, Aaosaheb performs Devi Pooja lighting Nanda deep and Anupriya explains the story of Navaratri. Kalyani questions why her Moksh is not with her. Anupriya says trust Devi Maa and you will get your Moksh. Kalyani says that she will search everywhere until she gets her Moksh.