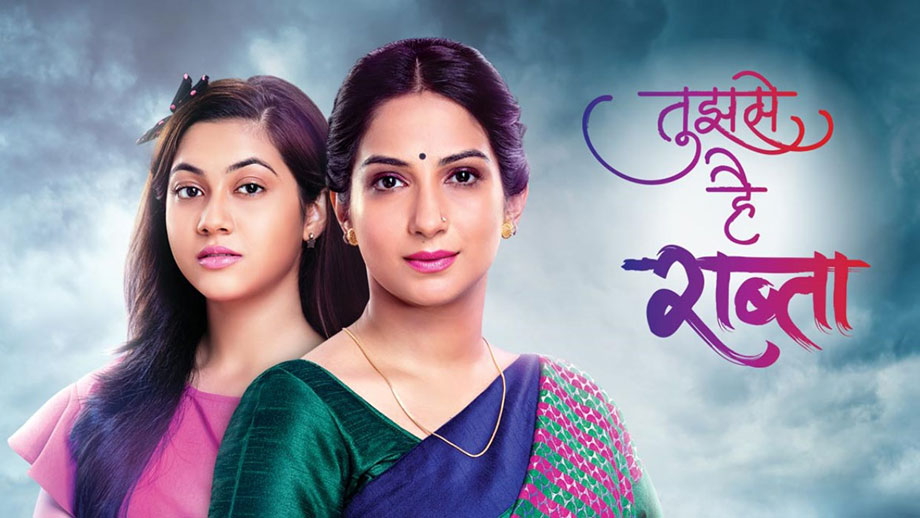 Tujhse Hai Raabta Upcoming Story, Spoilers, Latest Gossip, Future Story, Latest News and Upcoming Twist, on Justhowbiz.net
The episode starts with Yashwant asks is Kalyani is part of the members they caught? His member says No. Yashwant asks Swathi to go near Mandap for Marriage. Kalyani thinks she is ready for marriage to get details of her Moksh. Kalyani says she must adjust her lehenga and asks Yashwant to send some lady to her room.
Yashwant agrees and than he informs everything to their Madam. Goons aims gun at Sarthak and others and says Yashwant will teach them lesson once his daughter marriage gets completed. Anupriya thinks Kalyani is in Ghungat and she may gets ready for marriage to know about Moksh but u have to stop this marriage to save Kalyani life and Anupriya asks Sarthak help to stop this marriage saying Kalyani is in bride place. Sarthak says he won't care about Kalyani and his motive is to save his Malhar and says he don't know how to escape from these people. Anupriya notices Glass bottles.
Some lady goes to bride room and notices Kalyani and about to leave saying you're not our Swathi Bhai sa. Kalyani closes her mouth, notices kids bag with that lady and says you're also Mom, can't you help another Mom. Lady asks how you know it that I'm mother. Kalyani says she get it seeing her handbag and she request Lady to give her phone saying this call is important for her to reach her son and offers money for this help.
Lady says she can't take the money because it may anger the goddess and give that phone to Kalyani. Groom reached to Mandap covering his face and Other goons goes near Bride room and Knocks the door asking her to comeout. Kalyani asks that lady to call the number she dialed and asks her to inform them to reach this place with their team. Lady asks will you do Marriage for your kid. Kalyani says I will do anything for my son and goes to Mandap. Lady prays to Goddess to unite Kalyani with her son and than she calls Number Kalyani dialed in her phone.
Kalyani sits beside Groom while thinking her moments with Moksh and her watch indicates faster heart beat and she says Malhar ji and looks at Groom suspiciously. Pandit asks them to gold the hand. Kalyani places hand in his hand and realises that it's Malhar with his touch than its revealed it's Malhar.
Kalyani asks how he reached to Mandap as Groom. Than Malhar reveals to he how he escaped from Goons and handled Groom to take his place and he assures Kalyani that Yashwant game will be over once he get the gun. Lady reaches to Mandap. Kalyani signs her is work is done. Lady signs it's done. Kalyani says police team will reach here and we can arrest Yashwant but we have to stop our marriage otherwise it will affect Avni. Malhar thinks I wish to tell you everything but I can't because of my promise to Dad.
Pandit asks Kalyani to remove her Ghunghat to show her face in water. Malhar standup saying lizard. Pandit says it's abhashagun. Goon asks Pandit to start the Next Rasam. Pandit asks Groom to make Bride wear the Mangalsutra. Kalyani questions why it's happening very early. Goon says it's Yashwant order and asks Groom to make her wear the Mangalsutra. Kalyani asks Durga mas to stop the marriage saying she can't ruin Avni life. Goons forces Malhar and mangalsutra fell on Kalyani. Pandit asks Lady to adjust the Mangalsutra than he asks them to get Yashwant for Kanyadan. Yashwant reaches to Mandap.
Anupriya gets up and Goon tries to shoot her but Sarthak stops him. Goon aims gun at Sarthak. Anupriya throws Glass bottle at him which makes him leave the gun than Sarthak and Pawar beats him. Sarthak scolds Anupriya for risking her life. Anupriya says I must go near Mandap to stop this marriage.
Yashwant asks Pandit to give him Varamala. Anupriya enters the venue and asks them to stop. Yashwant sees Kalyani reflection in water and says Kalyani Deshmukh. Malhar and Kalyani gets up from Mandap. Goons aims gun at them. Kalyani questions him about her son. Yashwant takes stick from fire and questions about his daughter Swathi and asks his Men to search Swathi. Malhar handles Men and takes Gun and aims it at Yashwant.