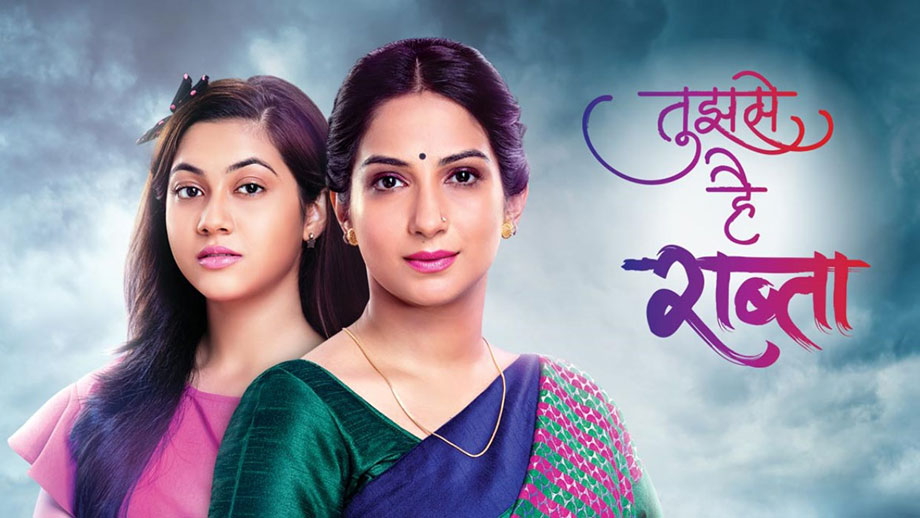 Tujhse Hai Raabta Upcoming Story, Spoilers, Latest Gossip, Future Story, Latest News and Upcoming Twist, on Justhowbiz.net
Episode starts with Kalyani blames Sarthak for failing Anupriya intentionally. Sarthak says your Mom don't have capacity to become Lawyer and she may wrote 1 or 2 answers but I'm pretty sure she can't even tell those answers. Kalyani says I'm confident on My Aayi abilities, so asks questions if my Aayi answered your questions that you have to help her to get Law degree and if My Aayi is failed than I won't disturb you again.
Sarthak asks questions, Anupriya answers his questions. Kalyani says when can we get degree papers. Some couple came to Sarthak to file case on hospital. Sarthak asks them to wait. Kalyani says Moksh also got operated so he might have some marks in his body and I will call Malhar so we can check.
 Sarthak says let Malhar live his life, don't search ways to get closer to him. Anupriya says don't blame Kalyani ,she is Moksh Aayi and she is trying to search her Son. Kalyani says I know Avni is Malhar wife and I'm happy with my single life and my family will gets complete with Moksh and My Aayi but what about your family? You left the ones who loves you. Sarthak looks shocked. Kalyani thinks for plan to keep Malhar away from her.
Kalyani and Anupriya reaches to home and notices Malhar. Malhar says sorry Kalyani i didn't caught Yashwant because I got an emergency call from Avni. Kalyani says don't worry, I hired special team to caught him. Malhar says Pawar told me that you're planning to search Beggar boys to know if Moksh is part of them so I will accompany you. Kalyani cries and says she must go to parlor and Doctor and shows her white hairs.
Malhar asks what happened. Kalyani says it's side affect of Brahmakamal juice so it take some time to set my hair so go to your home. Malhar agrees and goes asking her to tell when she is fine. Kalyani cleans her hair and thinks sorry for the lie but I can't make you get separated from Avni while searching for Moksh so I must search him alone.
Kalyani asks Pawar to send the location. Pawar says it's not good area and says that he will get the kids to station but Kalyani denies and asks him to send it. Kalyani sees the previous Girl who came to her house and waves her hand. Thief ran away stealing her mobile and Purse. Girl ran behind that person to get the Mobile. Kalyani about to follow her saying it's not needed but stopped seeing Malhar coming in Jeep and asks what happened.
Kalyani reveals him that how thief ran away with her bag and purse. Malhar scolds why you came this kind of area and I know your white hair is drama. Kalyani says I can't take your help everytime because what relation we have.  Malhar says it's my duty because I'm working under you.
Mukku makes Thief fell down and goes with Bag and purse, he follows her. Kalyani calls to her mobile with Malhar phone. Malhar goes to search him. Mukku attends Kalyani call and informs her that she got mobile and cuts the call saying she is hiding from that person. Kalyani goes to inform this to Malhar. Mukku hides herself in blue water.
Malhar pulls her out and questions why she is stealing at this young age. Mukku says whom you're saying thief. Malhar says tell me who's part of your Group. Mukku tells about her drama group, Malhar asks her to tell him about her thieves team and asks her to come to police station. Mukku says I know you're thief. Malhar scolds her. Kalyani reaches to that place, Mukku gives that bag to Kalyani and says that she saved it from thief's. Kalyani says to Malhar that she is not thief and she even tells to Mukku that Malhar is police. Mukku says he don't have personality like police. Malhar gets angry and says to call that girl dad.
Mukku says my Dad is lawyer and will teach lesson to you. Malhar asks his number. Mukku says from where he get number. Malhar says this girl is lying and tries to take her to police station. Kalyani makes him leave that girl and she signs Mukku to leave. Than Kalyani says
To Malhar that how this girl saved her from Yashwant.
Mukku reaches to home and calls her Mom. lady scold her after seeing blue colour in her body and asks for the Danda Ka money. Mukku gives money to her and feels scared. Her Mom asks her to clean her colour otherwise she can't get food.
Mukku says can I go for audition? Lady scolds her again and asks to clean her colour. Mukku goes than this lady gets call from Yashwant and she asks him to wait at their place. Kalyani says to Malhar that she is feeling some connection with this girl. Malhar says she can be from some group. Kalyani says she can't be and if our Moksh is with us than he will be like this girl who makes you silent with his talk like me.