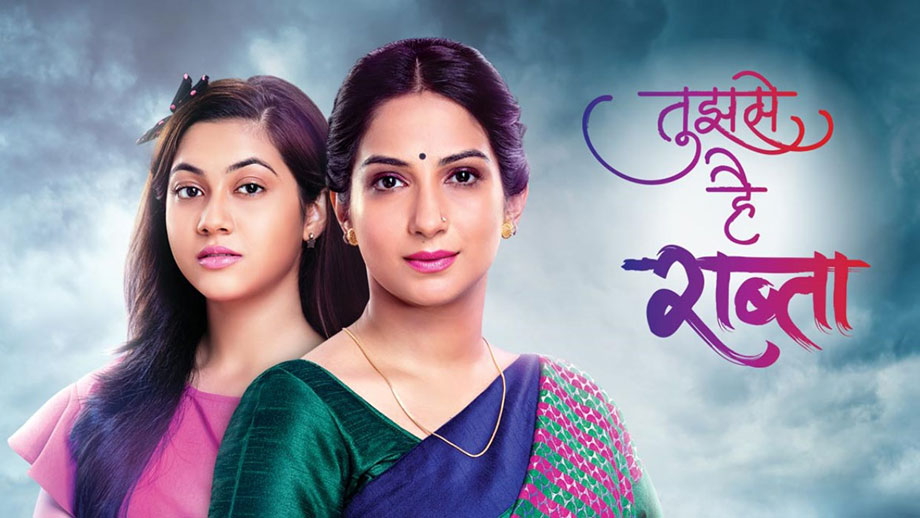 Tujhse Hai Raabta Upcoming Story, Spoilers, Latest Gossip, Future Story, Latest News and Upcoming Twist, on Justhowbiz.net
Episode starts with Kalyani sitting near Moksh's chair saying only two people understands me. One is you, second is Aayi.  Aayi is acting like angry with me but she can understands me and know why I'm against Vikram alliance for Godavari he can't keep her happy and another thing is nobody believes that you're alive but I know you're alive and I will find you soon.
 It's tough to stay in this house without you but I can't leave Aayi alone because she is innocent.  Anupriya gets teary eyes hearing her words thinks she trying to be hard for Kalyani goodness.
Kalyani notices Anupriya and asks you're listening me so tell me is it fine for you if I leave from here. Anupriya says leaves once you healed completely and I will be happy if you go from here. Kalyani asks what about the pain which I will get after go far away from you.
Anupriya about to leave but Kalyani sees Anupriya keeping her foot on the nail and Kalyani takes out the nail and asks how can you live without me, and questions why she is not wearing the slippers. Anupriya leaves without answering her.
Vikram comes to Kalyani office and says can I call you Saali Sahiba and offers Modak to her and says sorry for whatever happened. Kalyani asks him to leave saying he can't come without appointment. Vikram says he got Aaosaheb permission  offers 10 percent profit to her if she gives him tender.
Kalyani asks him to leave before she gets him arrested for offering bribe. Vikram says you're forgetting that Godaveri will come to my house after marriage.
Kalyani says that she starting seeing their old files to know how they got previous tenders against guidelines then will talk about alliance and she throws the modak on his face saying it's sweeter than her taste. Vikram leaves after his insult.
Aao Saheb says Anupriya that Guru ji told me that your Dosh will be gone if you do good work daily. Anupriya happily says she will do anything. Aao Saheb says you have to make the food for 200 cows in the near by shed and you can't keave that work in the middle.
Anupriya says I can do anything for Kalyani's life and says ahe will not enter the house until I do the work. Aao Saheb smiles. Pallavi asks Aao Saheb if she really talked to Guru ji. Aao Saheb says Anupriya don't have any dosh,it's to keep her in control, so that she don't take our names infront of Police.
patient keeps looks at Kalyani's pic in the paper.  peon says that he will try to call Dm office again. Officer tells Kalyani that someone is calling from Aurangabad Municipal Hospital and insisting to talk to her. Kalyani asks him to connect the call. peon informs her that a critical patient in their hospital is insisting to meet her since he saw her photo in the newspaper. Kalyani asks patient name. Peon says Trilok. Kalyani gets shocked and thinks if Trilok wants to tell her about Moksh.
Anupriya tries to make the food for cows. Pallavi says that Aao Saheb asked her to buy anything Godavari likes and even I will buy a good saree. Godaveri says she don't want to marry. Pallavi says that Damini and Vikram agree to marriage after seeing Kalyani and Malhar drama so we have to be thankful for it.
Officer assures Vikram that their work will be done soon. Malhar goes to Kalyani's cabin. Vikram asks what is he doing here? officer says Malhar was in DM's security and currently suspended. Kalyani comes out and takes Malhar to her cabin holding his hand. Vikram looks on. Kalyani informs Malhar that Trilok is alive. Malhar gets shocked.
Vikram informs her mom that how Kalyani insulted him. Avni comes there to talk to Kalyani. Vikram looks at her and asks who is she? Officer tells that he is Malhar's wife. Vikram sends officer to get him water. Avni asks if Kalyani is free to meet her stating she is her friend. Vikram tells that Kalyani is busy with her boyfriend. Avni gets shocked.
Kalyani sats to Malhar that she feels that they will get hint from Trilok about Pillu and feels like Pillu is not present during blast. Malhar says two dead bodies were found. Kalyani states that her Moksh is alive.
Vikram says that Kalyani broke engagement with him because of her affair with Inspector Malhar. Avni gets shocked and says you're mistaken. He gets a call and says Aayi I got to know why Kalyani broke engagement with me and leaves thinking it's best way to take revenge on both.
Malhar says it can be plan of Trilok to take revenge from us. Kalyani says she is sure that Moksh is alive and will search him. Avni goes towards the cabin. Kalyani is about to open the door, but stops after hearing Pawar calling Avni.
Malhar says Avni. Avni tells that she came to talk to Kalyani and but someone said Malhar is here. Malhar says why did she come here when her health is not good. Kalyani says she will question us and if she sees us and we don't have answers.
Pawar saya Malhar is not here and many are jealous of DM. Avni says I will check myself. Malhar says he is ready to answer  Kalyani asks why didn't he tell Avni all the truth on Ganesh Chaturthi. Avni is about to open the door.