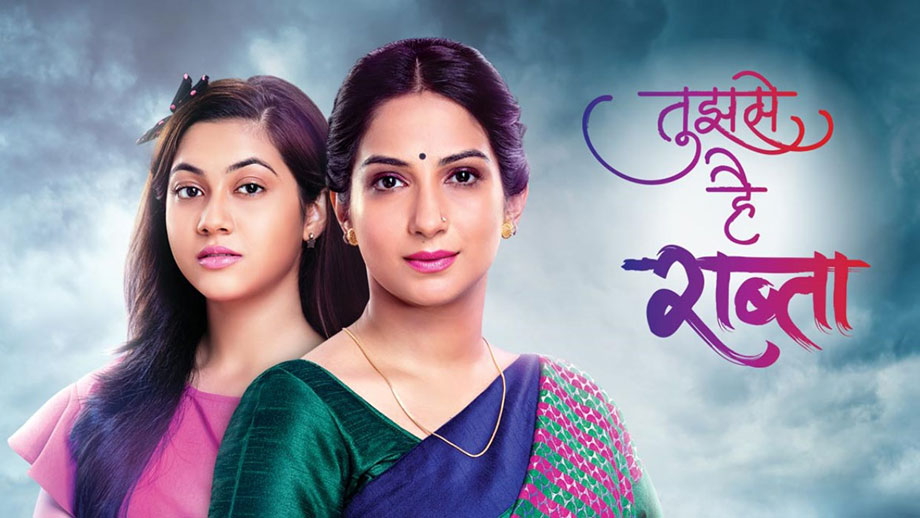 Tujhse Hai Raabta Upcoming Story, Spoilers, Latest Gossip, Future Story, Latest News and Upcoming Twist, on Justhowbiz.net
Episode starts with Mukku runs with Haldi bowl, Kalyani runs behind her to caught than it applies to Kalyani. Everyone gets shocked. Mukku says it's good and now you can marry Police like it happens in movies. Avni gets angry.
Mukku teases Avni saying her marriage won't happen with Police. Avni says did you heard Kaka what's she saying. Sarthak says this mannerless girl cant be my daughter and he locks her in room. Mukku says she won't let this marriage completed. Mukku asks them to open the door. Kalyani says he can't do it with kid, I will explain her.
Sarthak says noone will open this door otherwise I will leave from here with Mukku and Anupriya don't support Kalyani this time. Kalyani looks helpless and assures Mukku that noone will seperate him from her.
 Mukku asks her to open the door because he have to to stop the marriage. Kalyani says this marriage must happen Mukku and she breaksdown. Mukku asks are you fine because I feel you're not good and sing one song for me. Kalyani sings song.Mukku sleeps while listening the song, Kalyani cries.
Anupriya says Sarthak you're wrong. Sarthak says you think I like to punish her? Im feeling bad whenever I punish her but she is becoming mannerless so we have to keep her in line. Anupriya says she will get Mukku out from room. Kalyani stops Anupriya and says that Sarthak did right by locking Mukku in room.
Durgaprasad barks near Mukku room and she gets conscious and asks Durgaprasad to unlock her door to stop the marriage. Anupriya asks why Kalyani is doing this and she asks Kalyani to leave from here. Kalyani says she can bear this for her love. Sarthak says Malhar phone is not reachable than Anupriya shoes Malhar near to door. Sarthak says it's Muhurta time and asks Malhar to get ready, Kalyani says she kept his clothes in his room.
Durgaprasad tries to open the door. Kalyani sees Malhar about to throw his medicines and asks why he is doing it. Malhar says I have to live with pain so throw these medicines. Kalyani gets clothes from wardrobe than DNA reports fell from cupboard, Kalyani gets tensed. Malhar takes the papers but Kalyani takes papers for him and asks him to get ready. Malhar goes to get ready than Kalyani adjusts the report in cupboard but it again fell down.
Sarthak informs to office that he won't reach to office for 2 days and he sees Durgaprasad sleeping outside Mukku and Sarthak asks Durgaprasad to take care of Mukku and says that he is doing for everyone's good. Once Sarthak leaves, Durgaprasad again tries to open the door.
Malhar sits in Mandap and tells to Kalyani that she must part of every Rasam. Anupriya brings Avni to Mandap and makes her sit beside Malhar. Kalyani feels restless.
Mukku asks Durgaprasad to open the door immediately. Marriage rituals gets started. Pandit asks someone to do the Gadhbandan. Sarthak asks Kalyani to do it. Anupriya asks why will she do it? Because I can do it. Kalyani says she will do it and ties the Gadhbandan in tears. Pandit asks bride and groom to start Pheras bit Mukku comes to Mandap saying this marriage won't happen which shocks everyone.