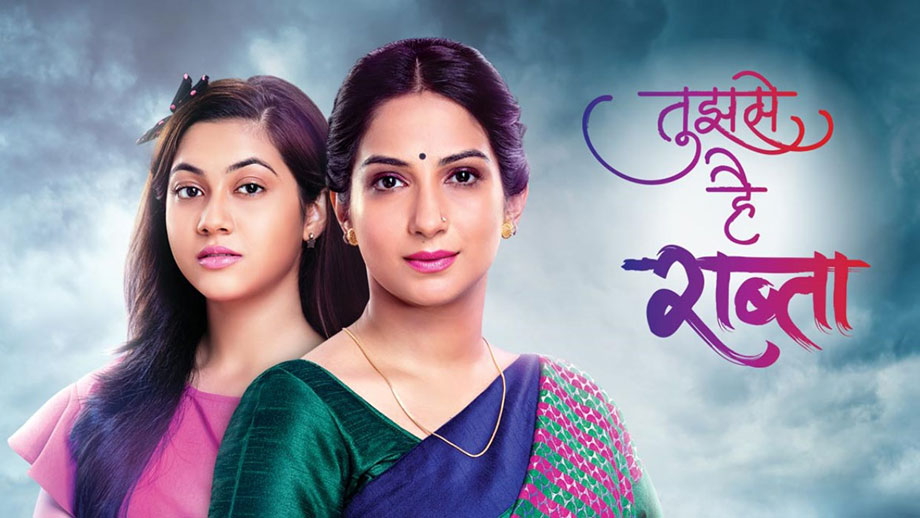 ATujhse Hai RaabtaB Upcoming Story, Spoilers, Latest Gossip, Future Story, Latest News and Upcoming Twist, on Justhowbiz.net
Episode starts with Mukku asks Did you lost your baby. Kalyani feels emotional. Mukku wipes her tears and says don't cry, even I lost my Mom, we have to live happily with what God provides to us and we can do one thing. Kalyani asks what's it. Mukku says I will become your baby and you can become my Mom.
Kalyani asks how can you talk big dialogues. Mukku says you're beautiful and brave mother greater than Aayi so I will address you as Item. Kalyani says previously you want to call as Aayi and Item. Mukku says even Item have Aayi.
Kalyani reminsces her past moment with Madhuri. Mukku says now I will tell to Bad Aunty that I have Item. Kalyani says she is elder so don't address any words otherwise I will be angry. Mukku says fine so let's leave so I can make you meet my Mother. Kalyani asks her to finish the food and feeds her.
On the way Mukku says Kalyani that her Amma is angry person and asks her to won't take it to her heart if she scolds them. Kalyani says ok. Amma searches Mukku. Mukku stops the car and asks Kalyani to come with her to home but Kalyani says she have work and leaves to office. Amma sees Mukku and scolds her saying where she went. Mukku says she went to get milk, she asks where is the milk and scolds her, Mukku thinks I can't reveal about Item to Amma at this time because she looks so angry.
Kalyani and Anupriya performs Aarti to Bappa. Kalyani thinks she have to search Pillu before the end of Navaratri and thinks how to catch Yashwant. Anupriya says trust Devi Maa, maybe she is testing you but she won't seperate baby Mom from her kid. Kalyani smiles than she gets courier of marriage registration form. Anupriya says it's for Godavari and Vikram. Kalyani says it's important for everyone to fill this form so Yashwant daughter might fill her original address. Anupriya says yes and they feels happy.
Malhar and Kalyani reaches to marriage registration office. Kalyani sees the file in desk and she asks officer to give them form. Officer asks them to tell about eachother. While saying Kalyani makes files fell down and Malhar pours tea on officer. Officer goes to clean his shirt asking them to keep the forms in file. They gets Swati form and takes picture of it. Malhar says this address is near Mukku area so I feel this girl is combined with Yashwant . Kalyani says don't blame her. Malhar asks her to come with him to prove it.
Mukku paste Kalyani pic in her shirt and dances madly and shows her friend that She too got her Aayi who's valuable than other Mom's and she is item. Boy smiles and says youre roaming pasting someone's photo. Mukku says see our similarities and now you can't say that I don't have Mom.
Amma solids her asking why she is talking with boys and than she gets shocked seeing Kalyani pic with Mukku and asks where she get it. Mukku says she is item and very good person, I feel like she is my mother that's why I kept her name Item, who's greater than Mom. Amma warns Mukku to never talk with her. Mukku says item is so good and she accepted me like her baby because she lost her baby.
 Amma warns her to lock in dark room for life time if she talks about Kalyani and sends her to home. Amma gets tensed thinking Kalyani may reach to Moksh and than she gets Yashwant call, she informs him that she have to leave with Mukku before Malhar and Kalyani caught them and she agrees to give him money.
Kalyani and Malhar reaches near address. Kalyani feels worried for Mukku. Sane boy comes near Kalyani and shows her pic saying you're Mukku Aayi right. Kalyani asks where he got the pic. Boy says Mukku Nani scolded her and locked her in room and now she can't come outside. Kalyani says how can her Nani behave in that way and she asks for Mukku address and goes to that place. Amma drags Mukku with her.
Mukku says she want to go near Item. Amma says Kalyani is not your Aayi, shedidn't raised you. Mukku says what if she didn't raise me, we can become Mom and Daughter because I like her. Amma warns her with Slipper and says only good father people will have Aayi and you don't have that luck. Malhar sees house and dad's that he came to this place before too. Kalyani sees broken scale and feels sad thinking Mukku Nani may be beating her. Malhar says maybe these people are united with Yashwant and he breaks the door and enters home.