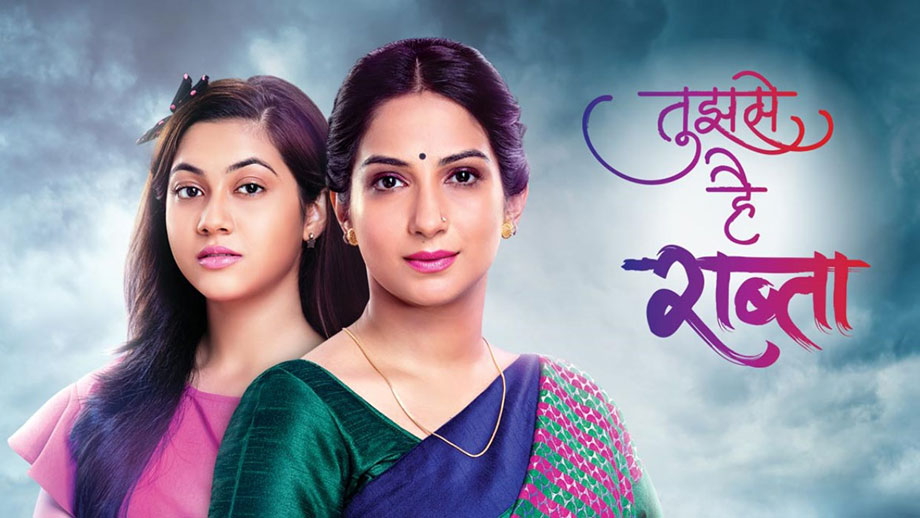 Tujhse Hai Raabta Upcoming Story, Spoilers, Latest Gossip, Future Story, Latest News and Upcoming Twist, on Justhowbiz.net
Episode starts with Malhar says Avni that he is allowing her to stay at their place for his brother mistake. Aaosaheb asks who's he to decide who gonna stay at their place. Malhar asks her to return the money Swara transferred to Vivek account to buy this house. Aaosaheb stays silent. Malhar says don't come in my way if you don't have money and he goes inside.
In room Kalyani reads Swara diary and cries thinking she don't know how much swara beared pain. Malhar comes to room and asks are you reading it to know the tortures you're going to experience in future or are you planning to change last two pages of diary to save your Aayi. Kalyani cries. Malhar cries saying he couldn't save his sister because he didn't know what's she going through. Kalyani tries to comfort him but he denies than he get call from DNA test person and Malhar sees results are matching and says Mukku is Sarthak daughter only. Kalyani cries thinking how she changed the reports and can't reveal him truth that Mukku is their Moksh.
Kalyani says to Anupriya that It's good that Malhar started accepting Mukku is your daughter. Mukku in sleep says he is Aifi ka Moksh not Mukku and that day accident happened by mistake. Kalyani silences Mukku and they goes out seeing Sarthak and Moksh are sleeping.
Kalyani says this is why I'm scared because Moksh is kid and he can't hide this for long. Malhar on call scolds Pawar to get the Child details so they can send him to correction room. Kalyani says how can I allow Malhar to arrest my Moksh? I can't see him in jail.
Sarthak arranges for Pooja at home. Anupriya asks what's the pooja. Sarthak scolds her for forgetting their daughter birthday. Mukku happily says it's her first birthday celebration And asks where is her Aifi. Sarthak says this Pooja for them and Kalyani won't come here but Mukku runs to call her. Kalyani finishes her office work at home. Mukku calls Kalyani to join in her Birthday Pooja. Kalyani wishes her happy birthday and tells that she can't join Pooja because it saddens bade Papa. Mukku says she can't participate in Pooja without her.
Avni reminsces how Mukku revealed her fake pregnancy to everyone and thinks to present special gift to Mukku.
Mukku sits in Pooja. Anupriya thinks how Moksh agreed to pooja without Kalyani. Kalyani sees Pooja hiding behind sofa.
Pandit performs pooja. Mukku asks Meena Kumari aunty Aifi might get Paap na if I do Pooja like girl? Mukku forwards Left hand. Sarthak asks her to forward right hand and scolds Kalyani for coming to Pooja even after his warning. Mukku stops him saying she is the one who called Aifi and Pandit ties thread to Mukku hand. Sarthak leaves. Mukku prays Bappa for her Aifi safety.
Anupriya asks why he came to home again. Mukku says she is the one who called pandit to perform Satyanarayan vrat from Kalyani and Malhar like happens in movies. Pandit says his time is wasted and couldn't even get Dakshina. Mukku says she will give and get the donation box. Pandit says it's belongs to their temple. Avni says she learned to steal and complains to Malhar that Kalyani is teaching wrong things to Mukku.
Mukku says don't says wrong things, it's written that it's for everyone that's why I bought it to arrange for Aifi and Malhar pooja. Kalyani apologies to pandit. Malhar agrees to to pooja and asks Pandit to do the arrangements. Mukku sats it's good. Malhar forcefully take Kalyani near pooja. Mukku clicks pics of them in mobile. Malhar warns to ruin them while performing pooja and Malhar gives Dakshina to Pandit. Mukku asks them to play the games. Malhar says we will play and says that he rename Kalyani name and he wrote Killer in rice plate. Kalyani looks on.