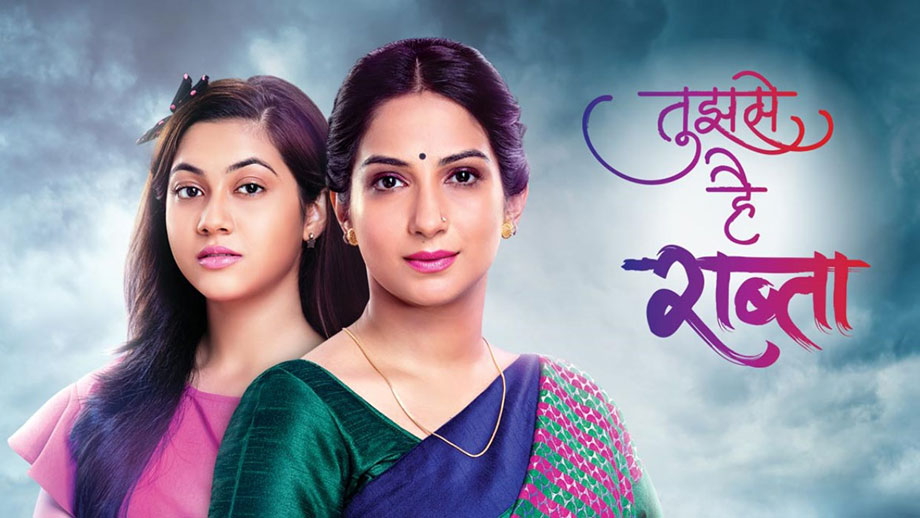 Tujhse Hai Raabta Upcoming Story, Spoilers, Latest Gossip, Future Story, Latest News and Upcoming Twist, on Justhowbiz.net
Episode starts with Malhar breaks the lock, Kalyani and Malhar search everywhere in the house than Malhar gets walkie talkie message and police asks how to identify girl, Malhar says she is trained kid. Kalyani takes wakie takie says if I have kid with Malhar than it will be like Mukku and feels emotional. Malhar asks how she can become emotional for new girl. Kalyani says don't know why but I feel connection with her and hope Mukku is fine. Malhar searches the room, Kalyani lits lamp in her hand and prays for Mukku.
Mukku thinks Amma said good fated people will have Aayi, if I can get good fate than I can get that good aunty as my mom. Aparna thinks because of Mukku they have to leave from this place and plans to earn money through Mukku to make arrangements for new place. Mukku asks where can she get good father.
Aparna says it's in hand and than she sees Mukku torn her saree to cover her face. Malhar tries to stop Kalyani but she didn't listen and cries for Mukku. Aparna beats Mukku. Police sees them and asks why is she beating the kid. Mukku says her Amma is not beating her and she just fell down because of Slipper. Aparna says they are going to hospital. Police offers help to drop them. Mukku sits on bike.
Aparna gets scared. Police asks whether she did any mistake that she is scared to take his help. Aparna unwantedly sits in bike. Malhar tries to stop her but Kalyani prays with Sarvamangalya mantra for Mukku safety. Police drop them at Hospital. Mukku says thanks to police. Police says it's his duty than Mukku notices Tattoo on his hand and asks whether he have kismet, police says his fate is good that's why he have good job, house and everything.
Mukku says so you have your Aayi too. Police says yes and once you're fine come to station to meet me, I will make you have vada made by my Mom. Aparna takes Mukku inside. Malhar on call inform to sane constable that they are searching the girl and her Nani. Constable says he just dropped them at hospital. Malhar informs this to Kalyani and both leaves to that place.
Kalyani asks Malhar to drive fastly saying she feels like Mukku is in danger, Malhar says it's just 4days back you met her but don't know why you gets so much attached to her. Mukku us in operation theatre. Aparna informs to Yashwant that Mukku will earn money for them.
Doctor asks whether she wants to make him write good fate for her. Mukku says yes and request him to make her Kismat wali to get Kalyani as her Aayi. Doctor gives her anesthesia and Mukku falls Unconscious. Doctor says operation is after 30m. Aparna says Girl must live whole life with one kidney so increase the payment. Doctor agrees. Kalyani feels restless.
Doctor about to start the operation but Kalyani stop him and asks what he plans to do. Doctor about to run out throwing her but Malhar caughts him and beats him to tell the truth. Doctor says first time he planned to sell kidney and says that he didn't do it.
Aparna beats everything from outside. Kalyani asks Malhar to send Doctor to jail saying she will cancel hospital permission. Malhar asks who bought Mukku to hospital. Doctor says some lady bought Mukku and she is hear. Aparna thinks she can't go Infront of them and leaves from that place. Malhar says it's done by mukku's Nani
Kalyani in tears begs Mukku to open her eyes. Malhar says she will get her conscious and takes Mukku with them to home. Kalyani asks Aayi why she didn't wakes up even after 30m so let's her take her to hospital. Mukku says item. Kalyani feels happy and hugs her. Anupriya asks her to make her lemon drink and she goes to get the clothes.
Kalyani makes her drink the water and asks how's she feeling. Mukku signs fine. Kalyani says let's call doctor here to check your health condition. Mukku denies. Kalyani insists her. Mukku thinks it's against Amma order and Amma may leave her if she knows that she met Doctor alone. Kalyani thinks why Mukku is tensed while hearing about doctor.