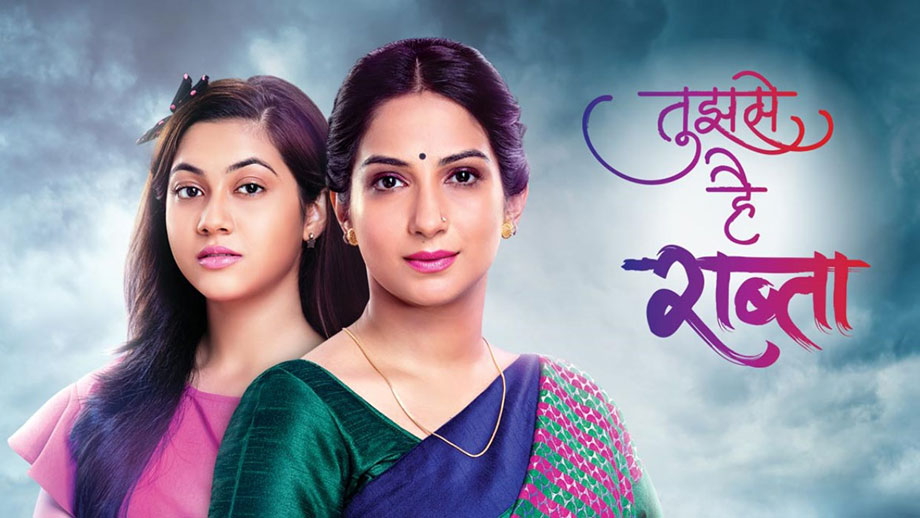 Tujhse Hai Raabta Upcoming Story, Spoilers, Latest Gossip, Future Story, Latest News and Upcoming Twist, on Justhowbiz.net
The episode starts with Kalyani asks how she reached to hospital. Mukku says I felt pain in stomach and went to hospital, their Doctor said he can make good fate in my hand than I asked him to make good fate than he injected me and I didn't remember anything and where is my Amma? Did you met her. Kalyani says I didn't met her but I will meet her for sure but why you want to make Kismat. Mukku says to get my Aayi i need Kismat.
Anupriya asks why she calls Kalyani as Good Aunty. Mukku says she is greater than my Aayi that's why she is Good Aunty. They smiles. Mukku says do you also don't have Kismat to get your baby. Kalyani feels bad. Anupriya says after searching so much she get Godavari childhood clothes and about to give to Kalyani but album fell down from those clothes. Mukku says the photo album and says she like to see photo album. She sees Aao Saheb and Pallavi pic in the album. Kalyani takes album and asks her to change clothes.
Mukku says she can't change clothes Infront of anyone, otherwise her Amma will leave her. Kalyani says ok and asks her to choose clothes. Anupriya takes Kalyani aside and asks why her Amma scared her to not change her clothes Infront of others. Kalyani says we will get answers from her Amma only, waiting to caught her.
Kalyani asks Malhar whether he founds anything about Mukku's ki Grandmother. Malhar says he is searching at her place and didn't got to know about her. Aparna changes her appearance and comes to home and asks Malhar about Mukku. Malhar questions her why she thinks to sell Mukku kidney and questions if she is teamed with Yashwant or not. Aparna says Yashwant is her boss and don't know anything about his work. Malhar asks why you take Mukku to hospital.
Aparna says I take her to hospital because she is having stomach ache, Mukku didn't come out so I tried to go in but they beat me badly and throws me out and burned my face and I came here while searching my Mukku. Kalyani listens everything in call. Malhar tells her that he can't believe her words until doctor done her checkup to check her burned wounds.
Doctor checks Aparna and says her burnt wounds are real and asks Malhar to admit her in hospital for treatment. Aparna says it's happened because of you Kalyani and I will snatch your happiness from your life keeping Moksh away from you and reminsces how she burned her face. Kalyani says so she is telling truth.
Aparna asks for Mukku. Malhar sends her to hospital saying she will get Mukku once she gets better. Malhar on call informs to Kalyani that he still doubts Aparna. Kalyani says she will keep Mukku with her until her Nani becomes fine.
Mukku wakesup, Kalyani informs her that Police uncle got to know about her Amma and she will be back to home once her health gets fine. Mukku feels happy and asks Kalyani for photo album. Kalyani gives her album. Mukku asks for Anupriya old photo. Mukku sees spoiled pic of Aparna with Aaosaheb and asks who's she. Kalyani says she is her Adhya and they are not staying together. Than shows Anupriya pic to her. Mukku says Anupriya also good. Kalyani asks her to sleep.
Next day Kalyani wakes up Mukku with kiss and asks why she is smiling in her sleep. Mukku says she is dreaming to be in their album and says she didn't have any work at their place because everything is already set. Kalyani emotionally hugs her and says that her dreams will get fulfilled.
Aaosaheb scolds Sarthak for having Mom veg food on Navaratri time and says to Anupriya that she won't let Sarthak staying here. Kalyani comes with Mukku. Sarthak asks are you planning to send me out. Aaosaheb says yes. Mukku says talk with my Dad because he is big lawyer. Kalyani says to Anupriya that Mukku don't have parents but don't know whom she addressed as her Dad. Sarthak asks where her Dad got degree and asks her for pic. Mukku asks Aaosaheb to give her money.
Aaosaheb gives 10rs note. Mukku shows Mahatma pic and says that he is her bapu. Sarthak smiles and says yes she is bapu to everyone and asks Aaosaheb to give their case to him and gives 10rs note to Aaosaheb and asks her to give it as fee to Bapu and leaves. Aaosaheb gets mad at Mukku but Kalyani takes Mukku with her saying it's Pooja time.
Mukku and Kalyani performs Aarti to Devi Maa. Mukku prays Devi Maa to unite Kalyani with her Kid. Kalyani prays Devi Maa to unite Mukku with her parents.