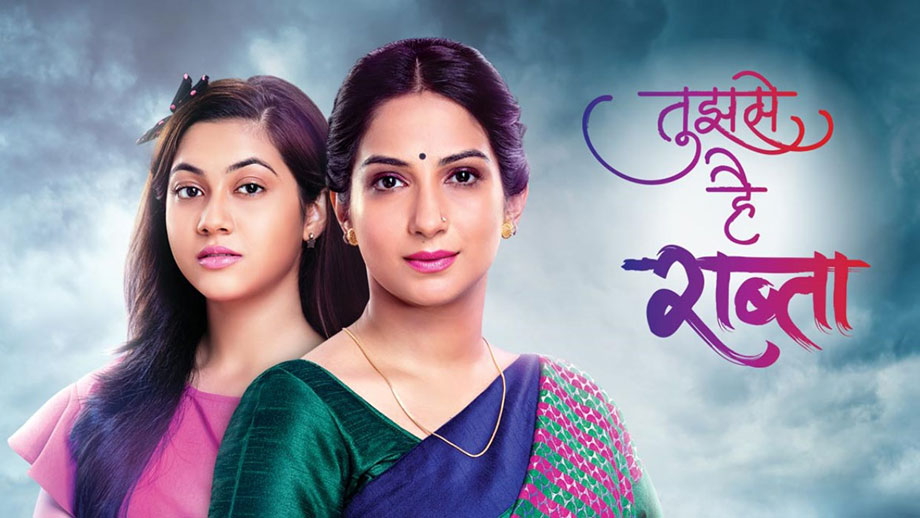 Tujhse Hai Raabta Upcoming Story, Spoilers, Latest Gossip, Future Story, Latest News and Upcoming Twist, on Justhowbiz.net
Episode starts with Mukku sees vacuum cleaner and sees how it works than her dress get strucked in machine and Mukku tries hard to save her dress. Aaosaheb feels happy seeing the scene. Mukku calls Kalyani to save her. Malhar listens her shouts and helps Mukku and scolds why she switches in the machine. Mukku says she doesn't know it will eat her clothes. Kalyani comes to Mukku and consoles her. Malhar shows Yashwant pics to Mukku and asks whether she saw him near her house. Mukku says she don't know him. Malhar says don't know when will we get our Moksh.
At night Mukku wakes up saying Amma and seen her wetting the bed and thinks Amma used to beat me for this so if I tell good aunty than she may also gets angry and she sleeps on that wetness. Anupriya and Kalyani sees everything, Anupriya says I will change the sheet, Kalyani Stops her saying Mukku may get embarrassed knowing I have seen her wetting the bed so let her sleep, after sometime I will change her clothes.
Few minutes later Kalyani goes near Mukku to change her dress, Aparna notices everything and switches off the power. Kalyani goes to get the candle. Aparna thinks what if Kalyani founds the truth and than she changes Mukku clothes. Kalyani goes to room and notices Aparna and asks what's she doing and asks her to stay away. Aparna says she is Mukku's Grandmother. Kalyani questions what's doing here. Aparna says she is worried for Mukku because she never stayed with Strangers.
Kalyani says Mukku becomes her friend and near one and they are not strangers. Aparna says thanks for everything and we must leave from here and she holds Mukku and Mukku shouts Good wali Aunty. Kalyani asks Aparna to take Mukku in the early morning saying she is in deep sleep and asks her to stay in their place.
Aparna in tears remembers her past seeing the house and thinks house is changed but these people will never change and never care for her and Aaosaheb won't think about her daughter and I raised Sampada with love but she too left me and it's all happened because of that Kalyani, I will take revenge on Kalyani and she will never get her Moksh.
Next morning Anupriya asks why Kalyani is looking sad. Kalyani says Mukku went with her grandmother and i felt empty when she is far from me and when she is with me I feel like I'm with Moksh, don't know why it's happening with me.
On the way Mukku asks what happened to her back and Face. Aparna scolds her saying it's all happened because of her closeness with Kalyani. Mukku sees Bappa idol and runs towards him asks him to tell her Amma that Kalyani is good and asks him to cure her Amma. Aparna throws Mukku slippers away. Mukku asks where is my slippers. Aparna says some dog ran away with your slippers and she makes Mukku walk on stones.
Mukku feels pain and shouts. Kalyani feels helpless and prays Goddess to save her child. Anupriya asks what happened. Kalyani says she is feeling like Mukku is in Pain and u don't know about my connection with Mukku but I feel bad when I saw Mukku In pain. Kalyani gets Pawar call and she asks him to distribute packets to everyone.
Pawar stops near Mukku and asks why she is roaming in bear foot. Mukku wipes her tears and says Dog ran away with her slippers. Pawar smiles and gives new sandals and clothes to her. Aparna asks why he is giving them. Pawar says Kalyani madam wants him to distribute clothes and slippers to kids in this locality because of Navaratri. Mukku feels happy and says Anna did you get the goodness of Kalyani aunty. Aparna thinks to keep Mukku away from Kalyani otherwise Kalyani may find Moksh. Mukku wears sandals. Aparna drags her. Anupriya assures Kalyani that they will get Moksh very soon.