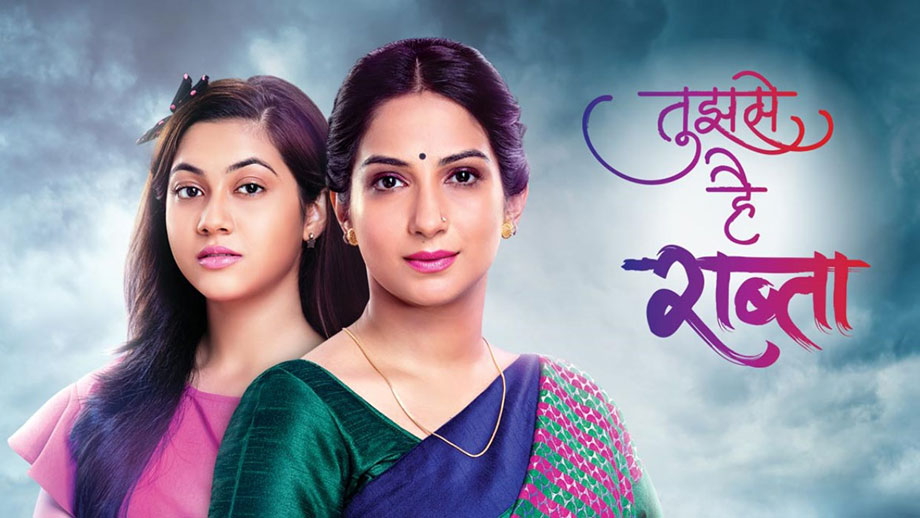 Tujhse Hai Raabta Upcoming Story, Spoilers, Latest Gossip, Future Story, Latest News and Upcoming Twist, on Justhowbiz.net
Episode starts with Aparna about to take Mukku with her. Kalyani says your health is not good so I will take Mukku with me until she gets fine. Aparna tries to deny but Kalyani won't listen and takes Mukku with her. Aparna gets tensed thinking what if Mukku reveals truth to Kalyani.
At home Anupriya gives ointment to Kalyani and goes to get clothes for Mukku. Kalyani applies ointment to Mukku to wound and asks whether it's paining. Mukku says my pain is gone because your hands have magic. Kalyani smiles and than she gets call saying today they will install WiFi at her place. Mukku asks what's WiFi. Kalyani says it's tough to live without WiFi and it's like connection of happiness.
Mukku says so it's like our relation so from now onwards I will call you Aifi. Kalyani happily hugs her. Aparna asks Pallavi to give her some work at their place. Pallavi denies. Aparna holds her saree. Pallavi thinks why she behind me and than she asks Pallavi to clean the lawn. Aparna agrees. Pallavi says why I feel I heard your voice before itself, did you ever met me. Aparna gets tensed and says she never met her. Pallavi says ok and asks her do the work.
Anupriya gets clothes. Mukku praises her choice. Aparna sees everything from balcony. Mukku says she won't change Infront of them. Anupriya takes her to washroom. Kalyani thinks Mukku can't be my Moksh but that striches mark. Aparna thinks I can't let them recognize me otherwise it's tough to answer them and she hides when Kalyani about to see her.
Anupriya places Kumkum on Mukku forehead saying her wishes will come true. Mukku says will she give me anything I wish. Anupriya says you will get it if you pray with pure heart. Mukku sees Kalyani and she makes Kalyani wear Kumkum by attaching her face to her. Anupriya looks on. Kalyani smiles seeing Kumkum and kisses Mukku forehead.
Mukku says Aunty is saying our wishes get fulfilled if we wear this Kumkum that's why I make you wear it and now you will get your Moksh very soon. Kalyani smiles. Mukku says Pooja is over, can I go to play games. Kalyani agrees. Kalyani says why will Mukku have same mark like Moksh. Anupriya says Mukku is girl so don't think about it.
Anupriya gets Sarthak call and Anupriya asks what happened to Avni. Avni asks Sarthak uncle do you really feel she will come. Anupriya reaches to their place at that time and asks whether it's paining her. Sarthak says youre not taking care of your daughter in law because you're busy with your daughter so from now onwards take care of Avni.
Anupriya says I always care for Avni. Avni says she is feeling pain in feet and needs massage. Sarthak shows oil to her. Anupriya massages Avni foot. Sarthak asks Avni to take care of her health and goes out. Avni says don't know whether Kalyani will get Moksh or not so Rane Parivar heir will be my kid right. Anupriya says Kalyani will found Moksh and he will with first heir of Rane Parivar.
Kalyani reaches Asosaheb room call Mrs Mehra saying network is not good in other places. Aaosaheb asks who's Mrs Mehra. Kalyani says they are one who adopted Moksh and from them Moksh get kidnapped. Kalyani calls Mrs Mehra. Mrs Mehra says they didn't identified Yashwant but they doubt one lady who used to see Moksh weirdly on that day.
Aparna gets tensed while listening their convo. Kalyani asks about that lady details. Mrs says some clues, Kalyani goes to get the pen. Mrs Mehra sees Aparna pic with Aaosaheb in that room and says to Kalyani that Red saree lady is the one who followed them in station. Kalyani sees that pic and are you sure? Mrs Mehra says I'm sure because I can't forget her face. Kalyani thanks her for help and cuts the call.
Kalyani calls Malhar and informs everything to him and asks him to reach very soon until than she give information to her team. Aparna leaves. Kalyani calls Aaosaheb and questions her about Aparna. Aaosaheb says she didn't know anything about Sampada and Aparna. Aparna goes to Mukku and takes her. Malhar comes to home and sees them going out. Aparna gets tensed.