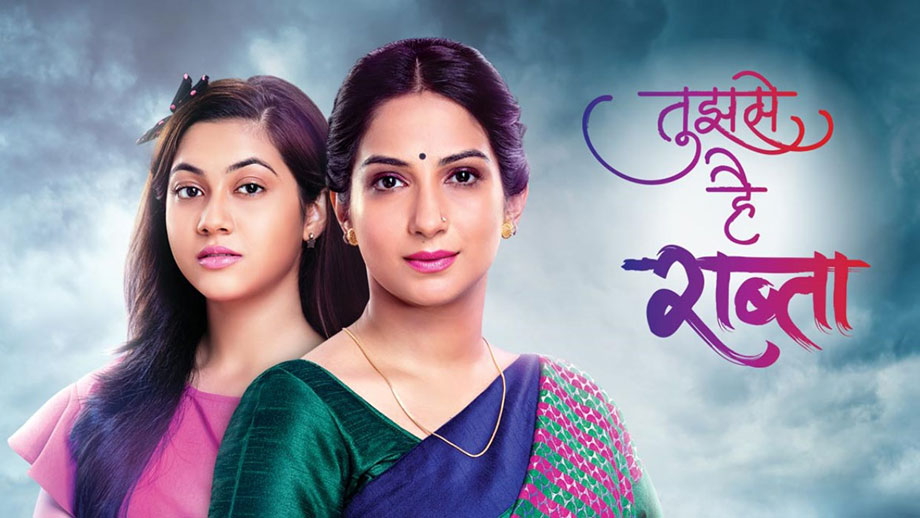 Tujhse Hai Raabta Upcoming Story, Spoilers, Latest Gossip, Future Story, Latest News and Upcoming Twist, on Justhowbiz.net
Episode starts with Anupriya calls Kalyani to tell what's happening at home but Kalyani tells her that she is going to stop Doctor who wants to give info about Moksh to Malhar. Mukku tries to escape but Sarthak asks her to learn English and French from Avni.
 Mukku hugs Anupriya. Sarthak takes Anupriya with him saying don't disturb them. Avni locks the door and pinches Mukku while closing her mouth and says your Bade Dad won't believe even if you told him so to escape from me reveal what's your Aifi and Anupriya is hiding from everyone. Mukku thinks hope she won't know about our game.
Kalyani tells to Doctor that kid is innocent and thats accident so please don't identify that kid Infront of Malhar ji otherwise innocent child must have to bear the punishment. Doctor says police will decide it, as a responsible citizen I must inform it and as a DM you have to make me tell the truth. Kalyani says I'm Mom too, won't you try to save your kid if he is in this kid place. Doctor asks her to leave saying he will do what he feels correct. Mukku says I will show these marks to Aifi and tell her how you tortured me.
 Avni applies moisturizer to heal her marks and says Now Everyone will thinks you're lying to escape from me so tell me the truth. Mukku escapes while spraying deo in Avni eyes and she hides in truck outside their home. Avni can't see her. Tempo get started. Mukku thinks where this Tempo might taking me.
Doctor stops the same tempo for help to fix his tier. Tempo men comes out but they threaten doctor to give his things to escape from them and they tries to steal gold from Doctor. Mukku comes out from tempo and helps Doctor by hitting goons with stones  and saves Doctor and plays police siren sound in Doctor mobile.
Goons gets tensed and leaves in their tempo. Doctor thanks Mukku for help and asks what's she doing inside Tempo. Mukku says I hided in that tempo and it's started moving. Doctor says nothing will happen and I will drop you once mechanic repaired my car than he attends Malhar call saying he is coming to their home.
Kalyani tells to Anupriya that everything is over and Malhar will get more angry at me after knowing I hided the Moksh truth. Anupriya tries to console her. Malhar says to Pawar that she is waiting for Doctor.
Mukku likes cap in Doctor vehicle. He asks her to take it if she likes. Mukku happily wears that cap than he says you're the same person in this crane right. Mukku sats I'm girl and that boy and Mukku leaves hurriedly thinking what if he informs to police than they might separate me from Aifi.
Kalyani comes to talk with Malhar that time Doctor enters and sees Mukku hiding her face with hair and asks what's she doing here? Malhar says she is my uncles daughter. Doctor says crane kid came to my clinic but I couldn't remember his face properly because of his cap. Avni asks him to tell who's that kid. Doctor says I couldn't remember that kid face but Your Brother takes that kid forcefully with him. Avni says don't blame Ahir. Kalyani sends Mukku inside. Kalyani says we have to listen doctor words too because we don't know what happened that day. Doctor leaves saying this the info he wants to have them.
Mukku says glad Doctor saved us because I helped him but how many days I have to play this game. Anupriya says just few more days. Kalyani thanks Doctor for his help.
Doctor says she helped me and if I get her caught than I can't sleep properly in my life. Kalyani says my Moksh is innocent and that day incident us just accident and thank you so much. Avni thinks what Kalyani is hiding.
Mukku says Doctor uncle helped us because I helped him right? When I become boy to learn karate so I can best goons. Kalyani says very soon once they won in game and she hugs Moksh and he feels pain. Kalyani sees the marks and asks who pinched her badly. Mukku says Avni pinched her badly.