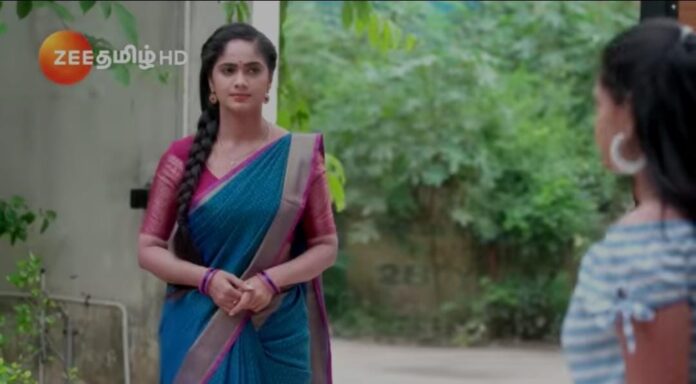 Vidhya No. 1 Spoilers, Upcoming Story,
Gossip , Future Story, Latest News and Upcoming Twist on justshowbiz.net

Zee Tamil's much loved show Vidya No1 is gearing up for drama with Vidya saving Sanjay's life by risking her own life.
Previously, it was seen that Preethi is surprised to see Vidya standing whole night outside the house and notifies the same to her mom. Preethi leaves for her house on her mom's call. Before leaving, Preethi tells Vidya that even if she dies, she can never enter the house. Later, Sanjay meets Vidya secretly. A snake bites Sanjay and he faints. Vidya immediately gives Sanjay by sucking the snake's poison using her mouth and spilling it. Vidya saves Sanjay's life. But Vidya faints as she also gets bitten by the snake. Manasa rushes Vidya to the hospital where Sanjay is admitted.
In today's episode, it will be seen that Vedavalli orders Vijay to find if her enemies are behind Sanjay getting bite by the snake. Vijay learns that Sanjay planned this. Vijay confronts Sanjay. The latter says that he did this so that Vidya saves him and Vedavalli accepts Vidya back in their house.
Later Chandramohan, Manasa, Vijay and Poornima try to convince Vedavalli to forgive Vidya and call her back to the house. But Preethi objects this. Vidya also refuses to come inside the house till Vedavalli calls her in. To everyone's joy and Preethi's disappointment, Vedavalli forgives Vidya and invites her to stay in her house.
However she says that Vidya should stay as an employee in the house and shouldn't make any other mistake. Prethi leaves for her house to prepare for the engagement which is held the next day while Vidya happily goes inside the house.
Will Preethi and Sanjay engagement take place? Will Sanjay make Preethi wear the engagement ring or will he tell the truth?
Stay tuned to this space for the latest updates on your favorite shows.