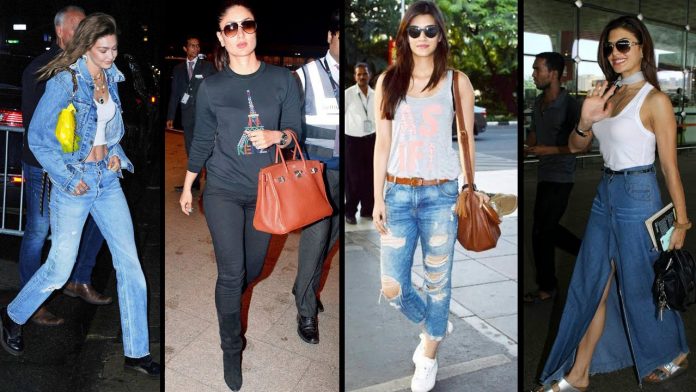 Take a look at the recent airport look of any of the Hollywood or Bollywood celebs – be it Gigi Hadid, Kylie Jenner, Kareena Kapoor Khan, Kriti Sanon, Anushka Sharma, Alia Bhatt or Priyanka Chopra. You will be able to spot one thing in common – Denim. Denim never goes out of fashion. Right? It keeps reinventing itself even as other fashion trends keep coming and fading out.
Airport Looks in Pictures:
On being asked that what makes Denim stand its ground firmly for eons, fashion blogger Stefy Gupta has a different take. She says, "The trend of jeans can be traced back to as early as the '90s. In those times boot-legged jeans were worn like a pride. Cut to now, the same flared style jeans has made a comeback in its modish form. What makes Denim a favourite since ages lies in the fact that it is unarguably comfortable, effortless, edgy and oh-so cool."
Coupled with the fact that denim is affordable, comfy and stylish, it can be spotted on everyone from corporate honchos to college goers. Sharing some style tips, Stefy said, "Denim dominates my wardrobe too for a reason. Pair them with a crisp white shirt and heels to dress up. Or throw on a casual t-shirt and flip-flops to dress down – you can create n number of styles with them. Do not restrict yourself to just Denim jeans. You should experiment with dresses, skirts, jackets, shorts and overalls to create your own style."
Well, denim is here to stay – now and forever. If you haven't tried it in all its avatars yet, here's your cue!
Do let us know what do you think about these celeb style in our comment box. Is it yay or nay in style? Keep reading this space for more such features and tips. Till then, Let's Get Bizzin!!