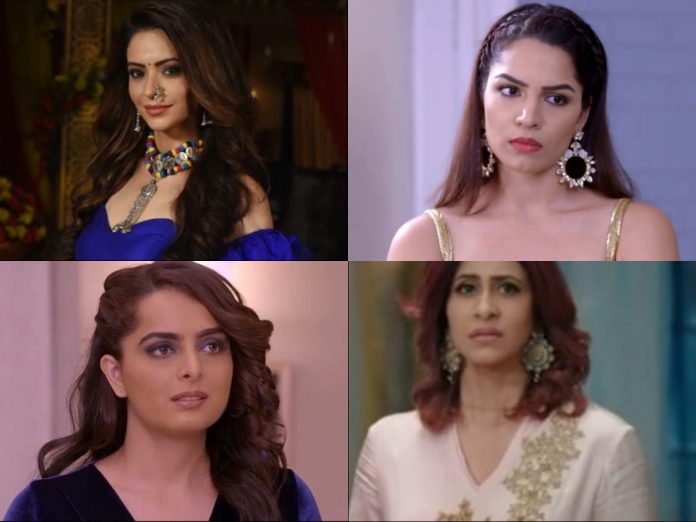 Vamps in the shows play an equal vital role to entertain the audiences. But no sooner the show runs successfully Vamps becomes more prominent than the leads. They actually overshadow the leads and leads of the show always seen losing to them.
Not in one of two shows, almost every show has a grey shade character because smooth dramas don't bring TRP's. For edge of the seat drama Vamps planning and plotting is must but in order to show that; vamps out stands more than the leads.
The leads of the show are shown so dumb by every time getting the defeat by the vamps till the viewers give upon the show. Well, currently Komolika of Kasauti Zindagi Kay; Sherlyn of Kundali Bhagya and Nishi Sippy of Kahaan Hum Kahaan Tum is getting on everyone's nerves.
Komolika from the ages is the ITV most well-known vamp because of her conspiracy which she plots against Anurag and Prerna. Now, in the reboot version of Kasauti Zindagi Kay; Komolika is equally or even more dangerous than before. She leaves no chance in plotting against Prerna so that she can throw her out from Anurag's life. Komolika is given more screen space than Prerna that she becomes famous. And as the result Kasauti Zindagi Kay is addressed as 'the komolika' show.
Same with Kundali Bhagya's Sherlyn, Kumkum Bhagya's Aliya and Kahaan Hum Kahaan Tum's Nishi.
Sherlyn miss no chance to hurt Preeta. She planned her accident but eventually fails. Aliya is still a great vamp between Pragya and Abhi while Nishi's conspiracy against Sonakshi is equally disgust.
The negative character of the show creates high voltage drama and at the end they hardly succeed. But by that time seeing leads losing to the vamps before the climax; drags audience's attention from the show. Show losses it charm and Trp falls down more once grey shades character surpasses the show. 
Type 'yes' if you agree that Vamp are more prominent than the leads!
Stay tuned with us in the comment section below.