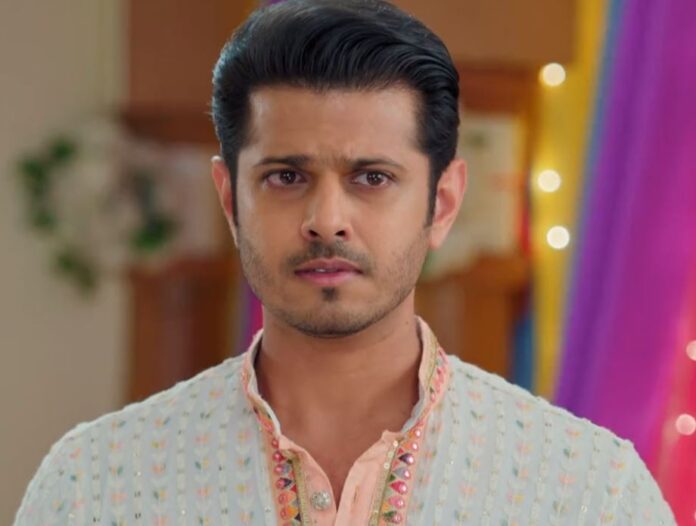 Ghum Hai Kisi key Pyaar Meiin Upcoming Story, Spoilers, Latest Gossip , Future Story, Latest News and Upcoming Twist on justshowbiz.net
With the start of new week,the mystery of Devyani's marriage with Pulkit is finally out. The viewers are now excited to know if Pulkit will be able to convince Bhavani.
Devyani tells but you married someone else and you have a kid too. Pulkit tells these people lied to you,he says I am here to take my Devyani and I won't leave without her. Shivani tells Bhavani you are responsible for Devyani's condition so please improve your mistake and let her go with Pulkit. Bhavani tells till I am alive they will never be together. Sai tells you have no right to ruin your daughter's life,it would be better if you start preparing for her departure.
Ninad raises his hands to slap Sai but Virat comes in between them and tells what were you about to do?Sai tells Virat he is PD sir and husband of Devyani. Virat asks Bhavani and Ninad if this the truth? Bhavani says all this is a lie,if they were married why would I hide it from everyone.
Devyani finally recalls her marriage and tells I remember we were married. I married Pulkit in Shivmandir. She tells I remember,she tells Pulkit to stay away from her or they will harm us.
Pulkit tells Devyani not to worry,she is his wife he won't let anything happen to her. Devyani tells she is ill so she cannot come with him. Pulkit assures to keep her happy forever.
Devyani begs Bhavani not to harm Pulkit. Sai tells Devyani today you don't have to be afraid. Pulkit says I am a very famous doctor now so they cannot harm me. Pakhi tells Sai why did she tell this family's secret to a stranger? Mohit says what Sai did today should have been done years ago by this family's elders. He says you just want to prove Sai wrong but even you know who is wrong.
Virat apologizes to Pulkit for his family's mistake.Bhavani says I am sad for Devyani's condition but I am relieved that she doesn't have to beg. Virat tells Pulkit has created his own identity,today he has money,fame and respect so why can't you accept him?
Ashwini asks Pulkit if he wants to take Devyani with her today? Devyani tells they will kill us if I go with Pulkit.
In the upcoming episode we will see Virat standing with Sai and supporting Devyani in taking her own decision. Bhavani tries to make plans with Pakhi to stop Pulkit and Devyani's marriage.
What will be the outcome of Virat standing against his family?
Will Bhavani let Devyani leave with Pulkit?
We will find out the answers to these questions and a lot of drama to unveil with Devyani and Pulkit's marriage in the coming episodes so stay tuned to Ghum Hai Kisikey Pyaar Meiin only on Star Plus and Hotstar.