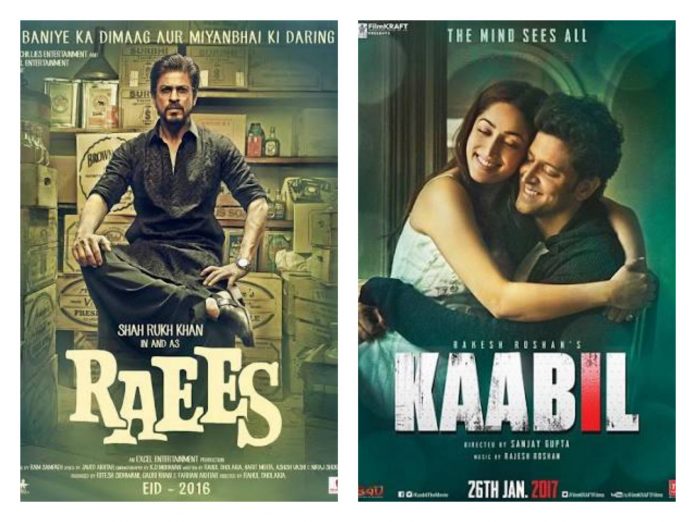 After many delays, Shahrukh Khan's Raees is all set to hit the theatres on 25th January 2017 clashing with Hrithik Roshan's Kaabil. Ofcourse being long awaited movies, Raees and Kaabil both are already buzzing.The trailers are fantastic,and everyone is super excited for the films. There seem to be war between fans of both mega stars but Just ShowBiz gives you 7 reasons to watch both.
1.King of romance and Greek God.
The name is enough. Shahrukh Kham-The king of romance potrays a grey character in this film. If you loved his roles in movies like Darr, Baazigar and Don, you will be in for a big treat. Its been long since we have seen him in a negative role. It is therefore very easy to say that the biggest reason for some of us to watch Raees will be watching him in this avatar. Greek God Hrithik Roshan, on the other hand will be seen playing the role of a blind man who despite of his disability is fueled by the fire of vengeance. Revenge is what he is seeking for his wife's murder whom he loved deeply.
2.The Diva's.
Pakistani actor Mahira Khan is the beautiful diva in Raees. Some people might have seen her in shows like 'Humsafar' and 'Sadqay Tumhare' of Pakistan but for others this will be the first time watching her on silver screen. She plays a pivotal role in the film as Raees's wife.Yami Gautami on the other hand plays the role of a blind girl who is girl friend of blind guy Rohan (Hrithik), and later gets married to him.

3.Its Nawazuddin vs Shahrukh And Roy brothers vs Hrithik.
Nawazuddin Siddiqui is someone who has always been very selective about his roles. His roles in movies like Badlapur and Bajrangi Bhaijaan have proved his acting prowess. In this movie he plays the role of a cop SP Majumdar who is after Raees. So its a fight between SRK and Nawazuddin. Contrarily, Ronit Roy has played convincing negative roles in films like Boss and Udaan and his real younger brother Rohit was seen in Shootout at Lokhandwala. They are responsible for Yami's murder in film. So, Roy brothers vs Hrithik will be a treat to watch.
4.Dialogues.
The poster of the film was released with Raees's dialogue  "Baniye ka dimaag or miyabhai ki daring". Also the trailer was loaded with some powerful plus witty one-liners and battle of words between the two (Raees-Majumdar). In Kaabil, "Ye khel unhone shuru kiya tha..tamasha aap logon ne dekha hai..khatam mei karunga..", one of the dialogues said by Rohan. Most popular is "Aayega na, darega toh nahi?".

5. A serous drama and a vengeful love story.
Raees is said to be loosely based on Abdul Latif's life.However the filmmakers deny,saying that the film is pure work of fiction and not based on any person's life. Also nobody knows the fate of Raees.What will happen in the end? Kaabil revolves around 4 protagonists, the love story of Rohan and Supriya, and Rohan's revenge. How will a blind man take revenge? Excited already? Hold on! Mysteries unfold 25 Jan! The genres of both films are different.
6.Action.
What does one expect from an action-crime-thriller movie? Action, action and action. A movie based on a ganster and a cop chasing him and only him has to be full of action plus drama. Kaabil is an action-thriller movie too.A movie based on a blind man seeking revenge. Both trailers were full of some power packed action sequences, leaving us craving for more!!

7.Cherries on the cake!!
Movies full of drama,action, romance, powerful dialogues, political vibes and superb acting! What's left?? Ohh!! Did I mention the cherries on the cake? They are Sunny Leone and Urvashi Rautela dancing on hot item numbers on remake of songs "Laila Mein Laila" and "Saara Zamaana".
So what do you think? Which one are you excited for? Raees? Kaabil? Ohhh!! Both?? Tell us which one is your pick first in the comments section. For more news and updates stay tuned and Let's Get Buzzing!