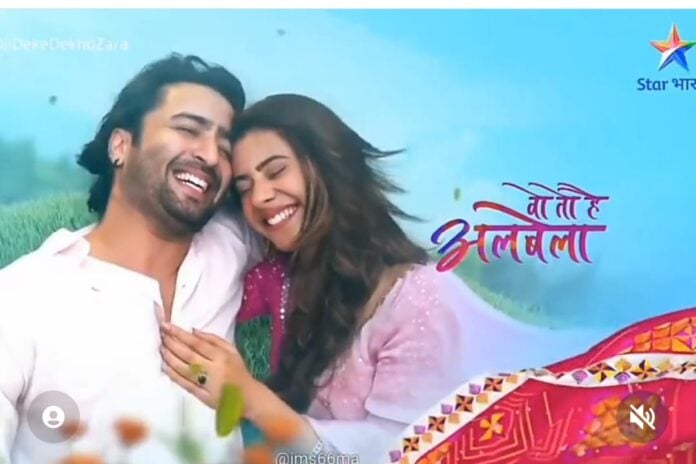 Woh Toh Hai Albela Upcoming Story, Spoilers, Latest Gossip, Future Story, Latest News and Upcoming Twist, on Justhowbiz.net

The episode starts with Sayuri crying and recalling the past. While getting ready to go to kuldevi temple Sayuri felt uneasy and called Doctor for test results. Doctor reveals that she's pregnant and Sayuri felt on cloud nine. She thinks that God answered the their prayers so quickly and is extremely happy. She wanted to share it with Kanha immediately but decides to share it in temple with God's blessings. Rest everything happened till she fell from clip.
She started getting consciousness after three months and heard Vikranth and his mother sleeping. Vikranth wants to keep her with him and tries to hold her hand but she managed to draw back her hand. Later, after some days Sayuri wakes up with difficulty. She tries getting up but faints. Vikranth's mother holds her and Vikranth asks her to rest. She asks what happened to her child and Vikranth says their child is safe and asks her not to worry. Sayuri scolds him for calling it their child and says that it's her and Kanha's child. Vikranth sate that from now she's his wife as he's the one who saved her. Sayuri refuses to agree and faints again.
Sayuri is in operation theater and Vikranth is waiting outside. He thinks that once the baby is out then Sayuri will start listening to him. Sayuri wakes up after delivery and asks for her child. Vikranth says that her child is safe with him and asks her to listen to him and stay with him if she wants it to be continue to be safer. Sayuri cries in agony. She later tries to escape when Vikranth's mother stops her. She says that she wants to see her baby and she takes her to a room. She plays the CCTV footage of her baby girl and Sayuri cries seeing her. Vikranth comes there and says to her that if she continue listening to his words and be hie wife then her child would be safe. Sayuri agrees having no option. He gave her Sanchi look and introduces his daughter Kuku to her. Kuku is equally scared and Sayuri notices it. She hugs Kuku.
Sayuri apologizes to Kanha in her mind. She says that she wants to go back to him and family but she couldn't because of her daughter. Vikranth is fuming in his room recalling the moments when Sayuri tried escaping from his clutches. She once found a police near their house and tries getting his help but Vikranth comes on his way. It's revealed that he's friends with Vikranth and introduces Sayuri as his wife Sanchi. The inspector greeted her. He thinks that he can't risk Sayuri escaping his clutches anymore. Sayuri and Kanha spend sleepless night with each other's memory.
Precap : Vikranth will fix CCTV cameras around his house to keep watch on Sayuri in his absence. Rashmi will decide to check the guest list of the party to find who is the person with Sayuri. Kanha will visit Vikranth's House to check on Sayuri's well being and Vikranth will see it through CCTV cameras.
Click to read
Woh Toh Hai Albela 9th January 2023 Written Update: Rashmi confronts Kanha about Sayuri.