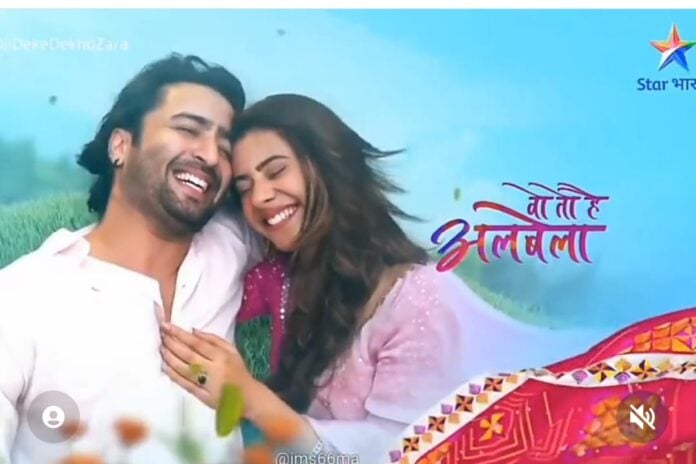 Woh Toh Hai Albela Upcoming Story, Spoilers, Latest Gossip, Future Story, Latest News and Upcoming Twist, on Justhowbiz.net

The episode starts with Nakul and Kanha planning for event. He asks whether theynsorted out the issue with Rashmi. Nakul says no and leaves. Sayuri comes there and Kanha asks how come she's there soon and Sayuri says her seminars got cancelled. He asks about Kusum and she says that Rishi took her with him right after coming out as he was waiting outside.
Kanha gets upset when Sayuri asks how could he hide such a big thing from him. Kanha couldn't understand what Sayuri means and Sayuri asks him about getting selected for final round. She says her students congratulated her because of which she got to know about it and asks why did he hide it from her. Kanha says about his plan to not got there and Sayuri gets upset and lashes out at him.
Kusum comes out after shoppig and wants to go back home soon. Rishi pulls her dupatta and misbehave with her. He warns her to not cut him off in the middle. Kanha comes to Sayuri and says that he felt like it's the time to take care of her and thus he postponed his passion. He says that he didn't put end card to his passion but has put a comma and postponed it as he needs to take care of her at this time.
Sayuri says that all these excuses will never seem to end and they would never know when it could put end to his passion. She advises him to go ahead and Kanha understands Sayuri's words and accepts with her. He's stressed out about Nakul and Kusum's problem and Sayuri suggested to take them out for some time.
Saroj asks the auspicious day for Kusum's engagement to Dadi Mausi and Dadi Mausi says a date to her. Kusum says that it's her exam day and Kanha says they can't cancel test at any way and says will discuss about it later. They all leave for having food out and Saroj suggests to take Rishi with them too. Kanha says that they're not related it and will go once they become a family. They leave with Kanha, Nakul and Kusum. Rishi comes there soon and gets angered knowing that they all went out with Kusum.
Kanha tries lifting upset Kusum. Nakul and Rashmi. Rishi watches them hiding. Kanha and Nakul says leaves for washroom when few rogues troubles the ladies. Kanha, Nakul come there and beat them up and Yash joins them. They take Rishi's name and Rishi comes there. He blames it on the girls and say men can do mistakes. Kanha gets angry and Sayuri asks Kanha to show few things to Rishi too.
Precap : Rishi's mother will lash out at Saroj for Kanha beating up her son. Saroj will say that Kusum and Rishi's marriage will happen for sure along with few other conditions. Kanha will say that they would not let that happen.
Click to read
Woh Toh Hai Albela 8th October 2022 Written Update: Rishi physically assaults Kusum and scares her.