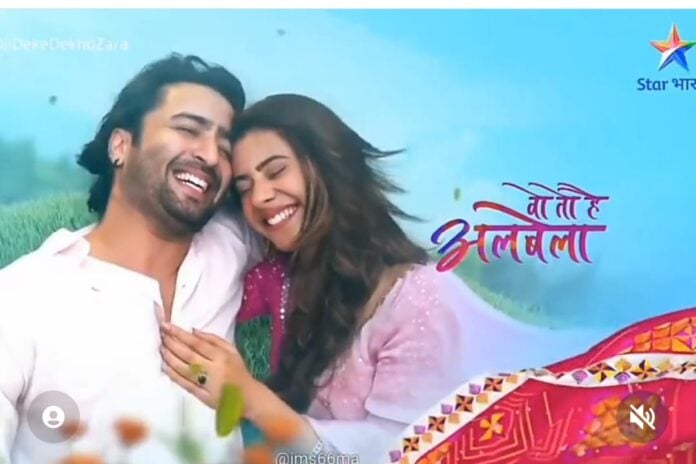 Woh Toh Hai Albela Upcoming Story, Spoilers, Latest Gossip, Future Story, Latest News and Upcoming Twist, on Justhowbiz.net
The episode starts with Kanha worried about Vikrant hurting Sayuri. He wonders how to come to her and take her back with him. He needs to sneak out without Rashmi knowing. Rashmi is walking around tensed about Sayuri and Indrani asks her to switch off the lights and sleep. She recalls learning about Sayuri's pregnancy and wanted to kill the baby too before it gets to the world. Rashmi thinks that she needs to find out if it's Sayuri and should do something heinous than before if confirmed. Sayuri is also thinking about Kanha when Kuku shows her the burnt roti. Sayuri switches off immediately and Kuku notices the friendship band in her hand. She ties it in her hand saying that it's from her friend and hugs her. She thinks that along with her kid she needs to save the other kid too. Vikranth urges for food and she goes to get it.
Everyone are seated at dining table and Dadaji gets excited seeing all the food on table. He wants to have it all but Dadi Mausi stops him. Others asks her to let it go for a day. Rashmi sees Kanha and Yash discussing about something and is sure that they wee planning together. Kanha says Yash that they need to keep Rashmi busy in order for her to not follow them.
Yash says he also needs to convince family that he moved on. He says about them Bringing Riddhi for the same but she left home all of a sudden after the party. Kanha agree with him. Sayuri is serving food to Vikranth and pleads him to let her meet her baby only once even at distance. She promises to do anything he sees and Vikranth looks doubtful. Kanha comes to his family and made the announcement that he understands why they Brough Riddhi home. He says he can understand their concern and is ready for second marriage. However he says that he wants Rashmi to find the girl as only she can find a girl atleast close to similar to Sayuri. Family gets happy with his decision. Dadi Mausi takes Rashmi with her to check the girl's photo while Rashmi understands his plan.
Vikranth brings men to fix CCTV cameras all around the house. Sayuri calls him and asks why would he need to install them as she may feel uncomfortable. Vikranth says that he needs to win his trust to her rid of the CCTV as well as to meet her baby. He says he would watch her 24×7 and asks her to be careful. Sayuri agrees with him. Rashmi is fuming in her room that she needs to find a way to find about Sayuri. She decides to check the party organizer's guest list as she suspects Vikranth to be a doctor. Sayuri is worried when Kuku drags her to a store room. The place is forbidden but Kuku forces her to break in the room. Sayuri looks at the CCTV and refuses to give in and Kuku leaves angrily. Sayuri apologizes her in her mind. Kanha comes to meet Sayuri and Vikrsnt is watching the CCTV.
Precap : Sayuri will get shocked seeing Kanha and will ask what is he doing there. He will fall down on her mistake and Vikranth will see it all through CCTV camera. Vikranth will get dangerously close to Sayuri.
Click to read
Woh Toh Hai Albela 10th January 2023 Written Update: Sayuri's past gets revealed.