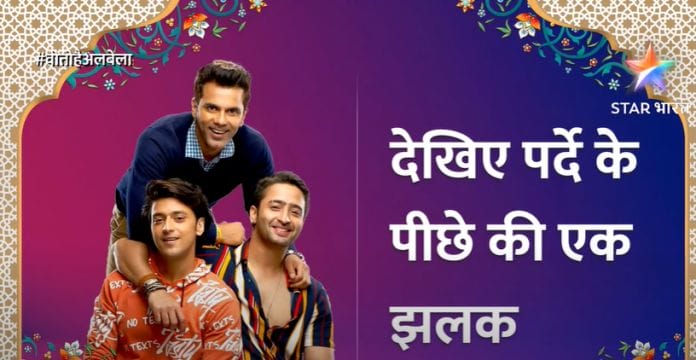 Woh Toh Hai Albela Upcoming Story, Spoilers, Latest Gossip, Future Story, Latest News and Upcoming Twist, on Justhowbiz.net

At the beginning of the episode, Saroj wants her to be so tired that she does not have the strength to talk. Chiru asks Saroj to open the door. He says that he was about to tell her everything but did not get a chance to tell. He tells her that he loves Sayuri very much. Saroj gets angry hearing this. Here Sayuri tells Indu that if she is not married to Chiru, she will die. Indu says that she cannot get married in that house.
But Sayuri says that Chiru is a very good boy. Indu says but she cannot send her to Saroj's house as she hates her a lot. Pihu says that Sayuri has to marry Chiru so she should not think about Saroj. Rashmi also explains to her that Sayuri and Chiru love each other very much. Indu tells them to shut up. Here Saroj remembers how she used to drop Chiru to school.
She wants to be so tired that not a single word comes out of her mouth for Chiru. Kanha prays to God that everything will be fine soon. He wonders what Indu and Dadiji must be thinking about him. Chiru tries to convince Saroj that he did not know that this thing would come in front of her like this. He apologizes to her and asks her to come out. But Saroj does not pay heed to his words.
Indu tells Sayuri that Saroj will never accept her. Dadi tries to pacify Indu but Indu says that if she supports Sayuri today, she will have the strength to fight for her love. Sayuri says that she is still not weak and will do anything for her love. She says that if Chiru will not marry her, she will spend her whole life in his memory. Indu is shocked to hear this.
Saroj remembers how she did not eat food for Chiru and did severe penance if he fell ill. But today her Chiru has broken her heart. Nakul tells Saroj that if she does not want to open the door, then stop the mill. Saroj gets tired and stops running the mill. Here Dadi explains to Indu that Chiru and Sayuri's love will reduce the hatred between them. But Indu doesn't think so.
Chiru comes out. Kanha apologizes to him. He asks him to talk to him once. Chiru says that Kanha has hurt him today. He thought that he would support him but it did not happen. Kanha says that he was worried about Saroj and does not like Sayuri either. Chiru says that he also does not like to watch vlogs but he makes vlogs so he watches vlogs. He says that he loves Sayuri very much and he will not stop loving her.
Precap: Saroj refuses to accept Chiru and Sayuri's relationship. Kanha asks Saroj to put an end to this hatred.
Click to read
Woh Toh Hai Albela 31st March 2022 Written Update: