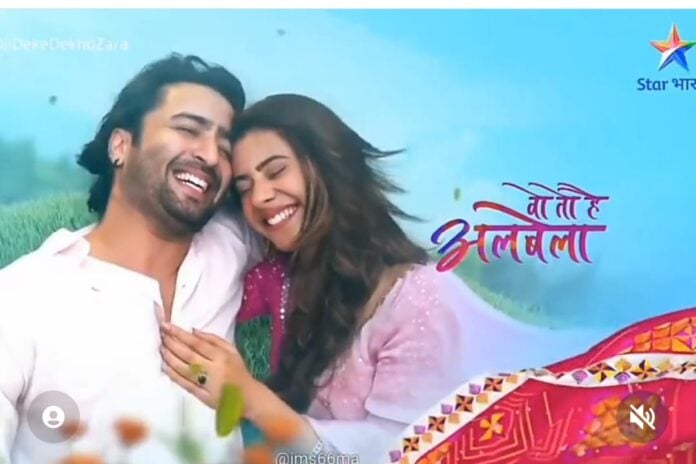 Woh Toh Hai Albela Upcoming Story, Spoilers, Latest Gossip, Future Story, Latest News and Upcoming Twist, on Justhowbiz.net

Episode begins with Yash being shocked knowing Vikrant has installed a CCTV camera. Kanha says he is keeping a constant eye on Sayuri and Kuku. Yash says it's so weird. Kanha says thank god she helped me and showed the CCTV or else we could have got caught. Yash says but what about garments for Sayuri? Kanha says i have given the diary to Sayuri so that she can make her dress and Vikrant doesn't doubt her. Yash says that's good, don't worry this Vikrant is oversmart and soon we will get more answers. Kanha says I hope so it seems all so twisted and we seem not to get any answers.
Here, Rashmi and Vidya are outside. Rashmi gives money to Vidya and appreciates her performance. Vidya sees the money and says you promised me more money and that is the reason why I left my acting and performance career. Rashmi says I have a twist in the plan, you will impress everyone and come close to all but then on the actual day of the wedding you run away. Vidya says why will I do that? I do want to get married. Rashmi says I will pay you double for this just in installments as I can't have any other bahu in this house as I can't share my space and privileges. Rashmi smirks when Nakul comes and gives something she had forgotten. Rashmi introduces Vidya to him and says how everyone is planning for Vidya and Kanha's marriage. Nakul nods and goes.
Kanha says I don't understand what is any other way to get back Sayuri and know more about Vikrant. Yash says I know days are less and you are panicking but don't worry we will be able to know. Here, Sayuri feeds Kuku when Vikrant is talking to Baa about Mithu. Sayuri hears it when Baa says the kid is very ill and needs a mother, sometimes kids become better having their mother by their side. Vikrant says I can't make Sanchi and Mithu meet till the time Sanchi doesn't marry me. Sayuri comes and pleads to Vikrant to let her meet Mithu once as she doesn't want her child to be sick. Vikrant says it's nothing to worry about. Sayuri says how Vikrant said Mithu and they are a family. Vikrant agrees to do a video call instead.
Vikrant video calls Baa and Sayuri sees the baby. Sayuri tries to talk to her and tell her how her mother is right here. Sayuri thinks this is her best shot to know more on Mithu's location. Sayuri asks Baa to take Mithu outside in open air and then show her on the video call so that she can sing a lullaby. Baa does so, Sayuri sings the lullaby. Sayuri is happy seeing Mithu sleep when she sees Sankesh Construction board and gets a clue. Vikrant takes the phone and says it's enough now she is asleep. Vikrant goes. Sayuri thinks please god save my daughter, I won't drink anything or eat anything till the time I don't get my daughter.
Here, Yash informs Kanha how he has asked a police friend of him to get details on Vikrant and if he has any criminal history. Kanha says great but something we need to find too like why is Sayuri lying and fearing Vikrant. Yash says by looking at the situation it feels he is threatening Sayuri to hurt someone. Kanha says maybe but the situation looks dangerous and serious this time. They decide to keep a track on Vikrant's move. Vikrant asks Sayuri to join in for dinner when Sayuri says I have kept a fast for my baby till the time I don't meet her I won't consume anything.
Vikrant says you are just being stubborn, it's matter of two days you will meet her after our wedding. Sayuri thinks I can't do this, I can't marry Vikrant as Kanha's wife I might forgive him but as Mithu's mom I can't forgive him, please help me god. Here, Nakul remembers his moments with Kanha when Rashmi comes and asks him what is he thinking? Nakul shares how he is planning to talk to Kanha again as he always has been loving him like Saroj said. Rashmi gets angry but doesn't show. Rashmi calmly says I support your decision but I just want you to be cautious as I don't want you to be treated as a kid again and lose all the confidence you gained. Nakul also starts thinking and worries.
Episode ends.
Precap – Yash plans to follow Vikrant while Sayuri thinks to unlock the door which makes Kuku so scared.
Click to read
Woh Toh Hai Albela 24th January 2023 Written Update: Rashmi introduces her friend as Kanha's prospective bride.